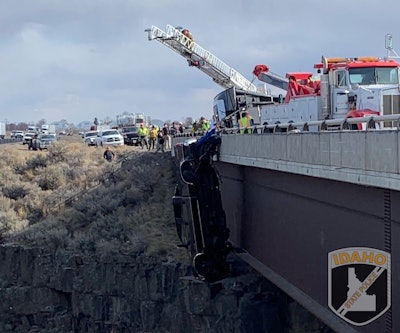 Idaho State Police
Safety chains gained whole new meaning this week after a pickup went over a bridge in Idaho and dangled from a trailer chain above a gorge as a couple and their dogs waited to be rescued.
Idaho State Police reported that a 2004 F-350 towing a 30-foot camper was traveling eastbound on Interstate 84 over the Malad Gorge on Monday afternoon when the driver lost control of the truck.
"The truck and camper swerved hitting the right shoulder barrier, then went left until the truck was sliding on the left side guardrail," ISP reported in a press release. "The truck then tipped over the bridge, with the camper blocking both eastbound lanes. Only the safety chain attached between the truck and the camper kept the truck from falling."
As the pickup dangled about 100 feet above the gorge below, a tractor-trailer driver stopped and provided a trooper and Gooding County Sheriff's Deputy with additional chains which they used to further secure the truck to the bridge while waiting on additional emergency crews to arrive.
[Related: Truck drivers following GPS destroy bridges, get into other trouble]
The couple, a 69-year-old man and 64-year-old woman, were eventually pulled to safety by a rappel team with the Magic Valley Paramedics Special Operations Rescue Team. Two small dogs inside the truck belonging to the couple were also pulled to safety.
"This was a tremendous team effort that took a quick response and really showed the dedication and training of our community of first responders," said Capt. David Neth of the Idaho State Police District 4 in Jerome. "This is something we train and prepare for, but when it happens and people's lives literally hang in the balance, it takes everyone working together, and then some."
The paramedics team also gave props for the group effort.
"I am just so proud of our team. It shows what all agencies including Magic Valley Paramedics Special Operations Rescue Team (SORT), Air St. Luke's and St. Luke's Magic Valley Paramedics can do working together," said Chad Smith, Field Supervisor for Magic Valley Paramedics SORT and Flight Paramedic for Air St. Luke's.
Idaho State Police thanked the following responding agencies for their help: Idaho Transportation Department, Gooding County Sheriff's Deputies, Gooding County EMS, Gooding Fire Department, Gooding Rural Fire Department, the Jerome City Fire Department, Air St Luke's, Idaho Fish & Game, Jerome County Sheriff's Office.