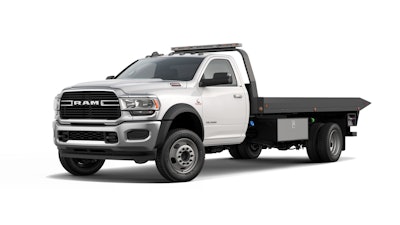 Ram
Stellantis, new parent company of FCA, announced that it's recalling over 20,000 of its Ram heavy-duty trucks following a "trend of engine compartment fires."
FCA said in a statement that the fires have occurred in non-customer vehicles and that it is not aware of any "related injuries, accidents, warranty claims or customer complaints."
While waiting on a fix, FCA recommends that affected trucks remain outdoors.
"Despite the minimal risk, the company advises customers whose vehicles were produced during a five-month period spanning August of last year and January of 2021, not to park their vehicles indoors," FCA said in a statement.
[Related: Ford recalls E-Series vehicles with 7.3-liter V8]
Engine fires traced to a defective heater relay led to the recall of certain 2021 Ram 2500 and 3500 pickups as well as certain 2021 3500, 4500 and 5500 chassis cabs. All affected vehicles are equipped with a 6.7-liter Cummins engine. Search for recalled vehicles by Vehicle Identification Numbers (VINs) on search engines such as mopar/recalls.com, checktoprotect.org, or nhtsa.gov.
"Some of the above vehicles may experience an engine compartment fire originating from an electrical short in the Intake Air Heater Relay, which can potentially lead to a vehicle fire with the ignition in the 'ON' or 'OFF' position," the automaker stated in a safety recall communication.
A vehicle fire can result in increased risk of occupant injury and/or injury to persons outside the vehicle, as well as property damage.
Three engine bay fires are known to have occurred in non-customer Ram trucks according to Automotive News. Stellantis traced those fires to heater relays sourced through Eberspaecher Controls in Germany.
[Related: Lordstown pickup burns up, report cites pre-order fraud]
In a safety recall report provided by the National Highway Traffic Safety Administration, Stellantis reports that the recall stems from an investigation that began in mid-February into certain 2021 Ram heavy-duty trucks "as a result of a detected trend of engine compartment fires."
A remedy is currently underway. Owners and Ram dealers will be notified by "on or about April 30."
The recall affects 19,214 vehicles in the U.S., an additional 685 vehicles in Canada, and 223 in certain markets outside North America.