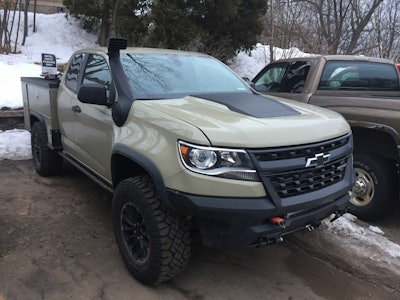 There's only one.
Today at the start of Chevy's Silverado HD Snow Day in Marquette, Michigan a special truck caught my eye—a Chevy Colorado ZR2 Bison-plus equipped with a Knapheide tool box. I had been checking out a 2020 Silverado 3500 Z71 Alaskan nearby when I looked over and saw the odd duck. (I say Bison-plus because as one Chevy rep said it's sort of a Frankenstein truck that's got more muscle than the typical Bison.)
With a little fact gathering I learned that Chevy had made the truck to accompany its other trucks on test runs—or in this case, when a group of reporters sets out to get more familiar with the Silverado's snow plow prep options vis-a-vis brand new Boss snow plows. Marquette may never be the same.
In short, this special ZR2 is a first responder of sorts, a chase truck, with plenty of tools and a 181-hp 2.8-liter Duramax diesel ready to go to the rescue on tough trails including Moab. But don't look for it next week at the Work Truck Show in Indianapolis. Sadly, it won't be there though I think it would fit right in.