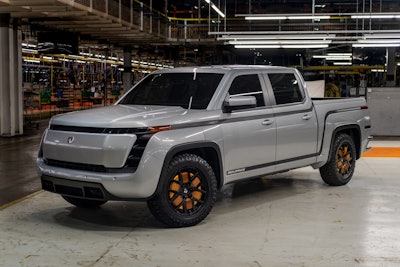 Electric truck manufacturer Lordstown has come under increased scrutiny following a truck fire and a report from an investment research company that claims that the fledgling automaker falsified truck order claims along with its production schedule.
Before the highly critical report from Hindenburg Research emerged late last week, Lordstown was dealt a blow when its prototype Endurance pickup caught on fire earlier this year in Michigan during a late night drive.
No one was injured in the midnight blaze which totally consumed the truck and lit a nearby tree on fire.
"We do acknowledge that, on January 13, we did have an event during a test with a development mule, and not a full Endurance pickup truck," Lordstown spokesman Ryan Hallett said. "No one was hurt, and like all of our test findings, we do it to create a great product. We have gone on to confirm that the cause was human error, but we're not commenting beyond that."
[Related: Lordstown reveals electric pickup with major TCO benefits]
According to a report Hard Working Trucks obtained from the Farmington Hills Fire Department in Michigan, a Lordstown engineer "and two others were driving the prototype vehicle when it began to have mechanical issues. The driver pulled to the side of the road. He then noticed the vehicle was on fire. All occupants were able to exit the vehicle with no injuries."
After extinguishing the truck blaze, fire fighters "soaked the truck for an additional 10 minutes to ensure there would not be a rekindle." EV fires have been known to reignite given the unstable and immense energy of a compromised battery pack.
The origin of the fire was reported to be an "engine area, running gear, wheel area." The Endurance features electric motors at all four wheels.
Property loss was estimated at $150,000. A nearby tree that caught fire from the truck was also extinguished.
Accusations of fraud
In a report released late last week, Hindenburg Research claimed that Lordstown has been making false claims about pre-orders for Endurance and is way behind schedule on production.
"The company has consistently pointed to its book of 100,000 pre-orders as proof of deep demand for its proposed EV truck," a lengthy report states on Hindenburg's website. "Our conversations with former employees, business partners and an extensive document review show that the company's orders are largely fictitious and used as a prop to raise capital and confer legitimacy."
Among its various accusations, Hindenburg alleges that a $735 million truck deal recently announced by Lordstown came from a "2-person startup that operates out of a Regus virtual office with a mailing address at a UPS Store."
Hindenburg reports that the owner of the startup said that they won't actually be ordering vehicles and instead described the arrangement as a "mere marketing relationship."
A former employee, according to Hindenburg, said that the Lordstown Endurance is at "an estimated 3-4 years away from production" because of "delays and making drastic design modifications."
Lordstown CEO Steve Burns said on Friday that Hindenburg's report "was based on half-truths and lies," according to the Wall Street Journal.