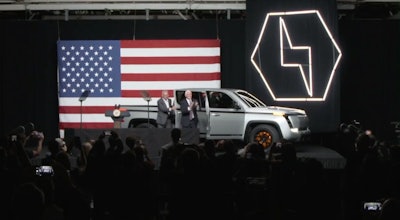 Lordstown revealed its new electric Endurance pickup yesterday at its factory in Lordstown, Ohio and though it was memorable to see U.S. Vice-President Mike Pence stepping out of the truck, what stands out even more is its exceptionally low operational costs.
Lordstown, which is targeting commercial fleets, displayed a cost comparison table on its website comparing its battery-powered truck to a Ford F-150 Lariat. According to their numbers, after five years of use, truck buyers stand to get back $500 over the initial upfront cost given the low cost of electricity, low maintenance and a federal tax credit. Even without the federal tax credit, buyers still come out far ahead.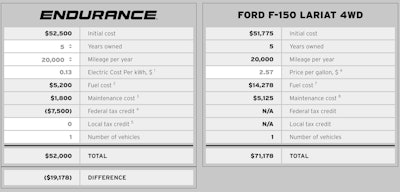 Lordstown's pickup features 250-plus miles of range. Charge times vary depending on the charger used. Level 3 charging can take as little as a half-hour while Level 2 charging, which has a lower upfront cost and isn't saddled with as many infrastructure requirements, takes up to 10 hours.
The truck's 600 horsepower will enable towing up to 7,500 pounds. Seating accommodates up to five people. With a governed top speed of 80 mph, the truck can come to a quick stop with custom in-hub motor brakes. Those same in-hub motors get the wheels spinning fast. The truck comes with a 3-year, bumper-to-bumper warranty; the battery is covered with an 8-year warranty.
Pence called himself "a truck guy" while on hand to help reveal Endurance. He also thanked Lordstown CEO Steve Burns for buying the former GM factory.
"With all that the American people are doing, we're putting America back to work," Pence said. "Today's one more example of the great American comeback."
If Endurance hits its anticipated roll-out in early 2021 it will be the nation's first, factory-produced, full-size electric pickup.
"We're going to beat everyone to market," Burns said.