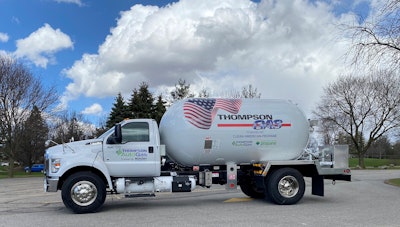 ThompsonGas
ThompsonGas is successfully putting its resources to work — in its own fleet.
In 2022, ThompsonGas, came through in a big way for the folks in Florida after Hurricane Ian hit. Propane autogas trucks from the company's fleet were just what was needed when fuel for gasoline and diesel vehicles weren't available. ThompsonGas kept things running smoothly and helped get the communities back on their feet.
Founded in 1946, ThompsonGas provides propane services to more than 250,000 residential and commercial customers nationwide. The Frederick, Maryland-based company ranks as the sixth largest propane retailer in the United States.
Initially, ThompsonGas received several propane autogas vehicles through an acquisition. The vehicles proved so successful that the company established a goal to add new propane vehicles each year as vehicles within the fleet were replaced. ThompsonGas now operates 130 propane vehicles in its 1,400-vehicle fleet, with more on order.
The vehicles are used extensively for delivery, service and sales routes.
"We have customers that operate vehicles fueled by propane autogas," said Monte McLeod, director of autogas at ThompsonGas. "We want to walk the walk and show our customers that we believe in propane and its technology, too."
[Related: Roush gets near-zero emissions certification from CARB]
McLeod says using propane autogas has cut down on the company's harmful emissions, like greenhouse gases, smog and particulate matter.
ThompsonGas driver Mark Draughn is also a fan. He says his propane truck "handles long-distance routes with ease, are a breeze to fuel up, and are quiet."
According to district manager Michael Hoffman, "The vehicles have done extremely well, allowing us fewer fueling interruptions throughout the day and enabling us to get to our customers more quickly."
ThompsonGas has seen a 70% reduction in fuel expenses and a 60% reduction in its vehicle cost per mile compared with its diesel vehicles. Historically, propane autogas costs about 50% less per gallon than diesel. Other companies, like Indiana-based Gibson's Heating & Plumbing and McAbee Trucking in South Carolina, have experienced significant savings, too. They counsel companies to learn about the fuel and talk with others who operate propane trucks.
Propane autogas is a safe, domestically produced fuel with a robust infrastructure and economic and environmental efficiencies. It's a leading alternative fuel in the U.S. thanks to its scalability, abundance and affordability. Hoffman estimates that its propane vehicles will last 250,000 to 300,000 miles with very simple maintenance requirements.
With lower fuel costs, reduced maintenance and a low total cost of ownership, ThompsonGas is running its fleet more efficiently while walking the walk.