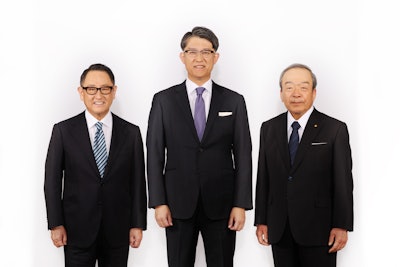 Toyota
A renowned primate expert and environmentalist featured prominently on Toyota's media site? Yep.
Toyota's interview with Dr. Jane Goodall was second to their top story, "TMC [Toyota Motor Corporation] announces changes to executive structure." Toyota has partnered with the Jane Goodall Institute to support its Roots & Shoots program which enables teenagers to work on projects that build awareness about the environment.
It's one thing to announce the partnership--but in Toyota's case, they interviewed Goodall and published excerpts from that interview to help promote both Goodall's and Toyota's efforts to be good stewards of the environment.
I stepped back a moment to take it all in. Toyota's media page is depicting a historic shift in strategy and it's not too surprising.
Following wave after wave of derisive judgement from the press for not embracing all-electric vehicles fast enough, a sea change appears to be underway at one of the world's largest vehicle manufacturers.
Or is it? Over 20 years before Akio Toyoda surprised the auto industry last week with his resignation as Toyota CEO, the Japan-based company had introduced a hybrid car capable of running on both gasoline and electric power. The compact Prius, butt of jokes around the globe, has been a great seller for the automaker and with upwards of 50mpg has reduced auto emissions over the past two decades in a huge way.
Other Toyota models available with a hybrid option like the Avalon, Camry, Corolla, Highlander, Sienna, etc., have also done a remarkable job of not only reducing fossil fuel consumption but also slashing emissions.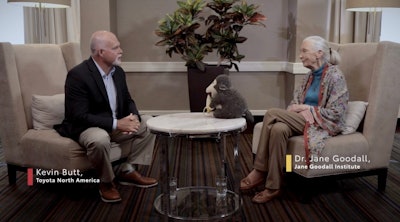 So, if you do the math and consider the millions of gallons of fuel not consumed over the years and the vast amounts of emissions not released into the atmosphere thanks to Toyota's hybrids, you would think that most auto and environmental reporters would more carefully ground their criticism.
They don't. It's far easier to condemn and throw gas on the fire than to stop, step back and carefully consider why one of the most successful auto manufacturers in the world may not have jumped so eagerly into all-electric like other OEMs.
Could it be that Toyota has gained some important learnings after working with millions of battery packs over the past 20 years? From nickel metal hydride to lithium ion, you can bet that Toyota has gathered a lot of data that it's acted on to help improve its long hybrid lineup as well as inform them about the viability of going all-electric.
I can certainly understand their hesitancy. After having driven the Ford F-150 Lightning for a 1,000 miles in Florida, I quickly became aware of frustrating range recalculations that mysteriously chipped away at the truck's overall range; broken chargers and the high cost of DC fast-charging; lackluster towing range; and higher registration fees at the DMV since it's a heavier Class 2 truck.
There were also some notable benefits: zero emissions; blazing fast acceleration; great handling especially while towing; reduced energy costs through overnight AC charging; big reduction in maintenance; a spacious storage area, or frunk, where an engine would reside; and 120- and 220-volt exportable power.
But the success of the F-150 Lightning and other EVs in both commercial and consumer circles depends on the availability for charging. It's not only the extra time needed to charge (45 minutes on average for us in the Lightning at DC fast chargers) but also the availability of chargers and their layout regarding the ability to make room for electric trucks with trailers. During our 800-mile trip in Florida along major interstates, there was only one charger we came across that could accommodate a truck and trailer. All other chargers offered tight parking in store parking lots that often made it difficult to squeeze in the Lightning. Had I been towing at the time, I would have blocked traffic for 45 minutes. Not an option.
Toyoda and other Toyota executives are aware of these challenges and more including significant range loss in cold temperatures; runaway thermal events in battery packs particularly when compromised in a collision; shortages of elements required for battery construction; child labor used in cobalt mining; and recycling inefficiencies that can leave spent powertrain batteries behind as toxic waste.
Nonetheless, amid ongoing pressure in the press—because after all, they're the experts that have designed and built millions of vehicles—Toyota pledged $70 billion to further its electrification efforts with half of that cash going to all-electric.
Sold state is in their future too. Reports on this battery chemistry have been promising: half the weight of conventional lithium ion, twice the energy density, much faster charge times and no flammability concerns. Other OEMs, including Ford and Volkswagen, have also been working on solid state development.
The success of EVs, going back to the 19th century when lead-acid variants first rolled out, have consistently depended on battery chemistry which has slowly improved through the years.
The F-150 Lightning and other trucks equipped with solid state could be a serious game changer for truck fleets. So why browbeat OEMs, fleets and consumers into pursuing not-ready-for-primetime vehicles in the meantime?
Not only that, but why not be upfront about the well-to-wheels environmental impact of EV production? A few years back, following an EV battery panel at the Advanced Clean Transportation Expo, I asked a panelist how spent EV batteries should be handled following second-life use cases in back-up power applications. The response? "Ship 'em all to Africa."
I can't help but think that Dr. Goodall--especially considering her monumental work in Africa--and many others would disagree. Obviously there's much more work to be done and hopefully there won't be too many casualties along the way. In the meantime, I can't help but recall the wise words of my grandmother and mother who would caution me against rushing into things: Haste makes waste. So true.