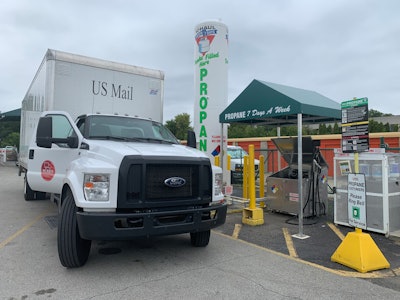 McAfee
Did you know that Mustangs powered by propane autogas have been used to win national championships on the racetrack for more than 12 years? Ford Mustangs with Coyote engines have a staggering 890 horsepower with two fuel injectors per cylinder and a supercharger, reaching 150 mph in just 9.19 seconds. In fact, racers Susan Roush-McClenaghan and Donnie Bowles have racked up several championships using these innovative engines.
While those numbers are impressive, the power of propane autogas shows up in our day-to-day lives, too. Take, for example, Lisa McAbee, owner of USPS contractor McAbee Trucking. In 2014, McAbee investigated ways alternative fuels could benefit her company's fleet while meeting USPS's sustainability goals.
When McAbee discovered that Ford commercial vehicles equipped with propane autogas fuel systems retain equivalent horsepower, torque, and towing capacity as gasoline and diesel counterparts, she quickly began incorporating Ford-750 propane trucks into her fleet.
Each of McAbee Trucking's 26 propane trucks travels 8,000 miles per month and has dramatically benefited the company over the last few years. The propane vehicles performed well in 2020, helping McAbee Trucking deliver 40 to 50% more packages during the pandemic than in previous years while keeping fuel and maintenance costs low. During the Colonial Pipeline crisis when other trucking companies faced fuel shortages, McAbee kept delivering in propane vehicles.
Propane autogas engine technology has progressed to the point where emissions are reduced to near zero without sacrificing engine power and durability. In fact, the most advanced propane engine on the market, which was developed by ROUSH CleanTech in 2010, is 90% cleaner than the current Environmental Protection Agency's most stringent standard, making it the cleanest of all class 4-7 engines available today.
In addition to taking care of the environment, most companies see both immediate and long-term savings through lower fuel costs, start-up support through federal and state incentives and a drastic reduction in maintenance fees.
Gibson's Heating & Plumbing, an HVAC company servicing Northeast Indiana, operates 38 propane autogas trucks. In just one year, Gibson's Heating & Plumbing calculated a fuel savings of $106,284 on its propane vehicles compared with gasoline vehicles (an average of $8,857 per month).
Gibson's Heating & Plumbing also took advantage of federal government alternative fuel tax credits and received $8,000 per vehicle over a two-year period.
Maintenance costs were reduced by 30% annually, and Gibson's kept more trucks on the road during winter months because the new technology behind the propane engines requires no extra steps or costly equipment to keep the fuel from gelling (as is the case with diesel).
Propane has a proven track record of powering more than 27 million vehicles worldwide — from the racetrack to the classroom to the mailbox, it's one of most widely used American-made alternative fuels available today. As we collectively think about what we want our future to look like, it's clear that propane autogas (and renewable propane) is a cost-effective and efficient alternative fuel for business owners and their hardworking fleets.
HWT contributorTodd Mouw is executive vice president of sales and marketing at Roush CleanTech and former president of the NTEA Green Truck Association.