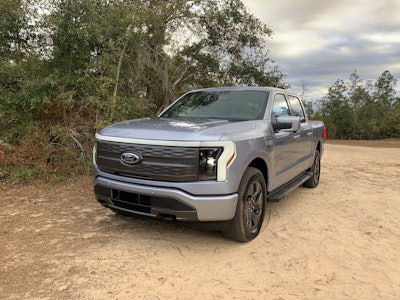 Ford
As I sit here typing up this story, I can look over my shoulder and see the new 2022 Ford F-150 Lightning just outside my window.
The fact that it's here speaks a lot to the progress that's being made in getting all-electric vehicles out for review to writers like me that live in rural areas.
First up, this 4x4 Supercrew has an extended range battery that takes it up to roughly 320 miles of range depending on a lot of factors like ambient temperature, driving style, topography and HVAC use. Yes, you sometimes have to cut back on battery-draining creature comforts to get some additional range.
Second, we've got more chargers in place between me and the good people that deliver pickups to test drive here in Northwest Florida.
Honestly, when I first thought about reviewing an electric pickup a couple years back, I wondered if the truck would have to be delivered on a flatbed. Range is everything in an EV and if you live in area that clearly has a lot more trees than chargers—which is the case here—then driving an EV can make you a little apprehensive.
But Ford did their homework and felt comfortable enough with the growing charger rollout to bring me this iced blue silver zero-emission workhorse. As far as work goes, we'll tow with it and see just how much range is impacted.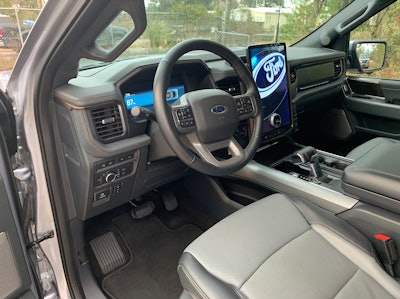 All the excitement really started last night when my son, who was driving home from work at the time, called me on the phone to say that he had spotted the truck rolling into town. He was impressed with the color and exterior lighting.
When it was brought to the house earlier today, I didn't even hear it. That's a first. All other pickups that show up are just outside my window with their engines clearly rumbling, some louder than others, like the supercharged and super fun Ram TRX.
But when the Ford Lightning rolled into view, I didn't hear a thing. The only clue was a knock at my door.
I remember thinking five or six years ago when driving Workhorse's prototype W-15, an electric pickup with a range extending engine, how cool it would be to drive an electric truck in the woods when you didn't want to spook deer or other wildlife.
My daily driver, a 2014 Toyota Tundra Platinum equipped with a 5.7-liter V8, quickly scares our deer away. Whether that's owed to engine noise, gravel popping under the tires, or whatever else, I don't know. The point is that it will be interesting to see if the deer are less likely to run while approaching in the ultra-quiet Lightning. It certainly can't hurt.
And it's not just deer stalking I'm interested in, it's also—more importantly—charging, towing, off-roading and just driving around to get more familiar with Ford's first full-size electric pickup. This is history, after all, and I'm feeling fortunate to be a part of it.
At home, it looks like I'll be doing Level 1 charging on a common 20-amp plug given the fact that I don't have a plug adapter for our 220 outlet. That's all part of the experience.
I'll have to start charging pretty soon because my son and I will be heading out tomorrow morning to Orlando to catch the Cheez-It bowl. Being FSU fans, we're pretty fired up to see the Noles finally back in a bowl game.
My son and I already checked out the charger situation along the way and it looks fine. And really, it doesn't require a lot of guesswork. You just put in your travel destination, and Lightning will tell you what chargers are available along the way. You can specify the type of charger you want, like DC fast-charge, and charger brand. In this case, we'll be looking to stop at Electrify America stations since Ford has an agreement with them to foot the bill.
Admittedly, I'm apprehensive about jumping in and taking this 360-mile road trip. While this is not the first electric truck I've reviewed, this will be the first road trip I've taken in one.
I'm confident that we'll make it but just in case, I'm giving us an extra three hours or so to get there. I've heard too many stories about charger issues to leave any later.
Once we get back on Friday, we'll jump into towing, off-roading and in-city driving. There's also a DC fast-charger not too far away that I want to try. I look forward to sharing the results on that and a whole lot more.
There's also another cool aspect to this story that I'd like to share. Today's my step-dad's birthday. He retired years ago from GE as the head of their battery division. He's got some interesting stories about a car manufacturer you all know that was eager to get into EVs in the 90s. Jack Welch nixed the idea of mass-producing EV batteries because, as he tells it, Welch didn't think the chemistry was ready at that point for EVs.
While there's still progress to be made when it comes to battery chemistry, today's EV batteries have certainly improved substantially from where they were roughly 30 years ago. I'll be taking Dad for a ride after posting this story so he can see firsthand just how far EVs have come along.