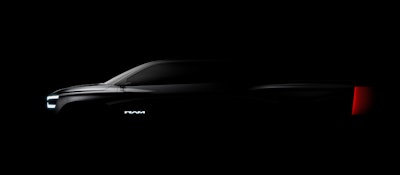 Ram
Big news is coming from Ram at the Consumer Electronics Show in Las Vegas this week.
Ram announced in November that it will be unveiling its all-electric Ram 1500 Revolution concept at what CES calls "the most influential tech event in the world."
I think some of the biggest news so far is that Ram plans on rolling out its electric 1500 to dealers in 2024. That's fine with me. Hopefully, that gives them more time to get it right, because after all, Ram has some big goals for their electric 1500 and some other models.
Their November press release announcing the CES reveal of their 1500 BEV reads in part:
Ram electric vehicles, including the Ram 1500 BEV production vehicle that debuts in 2024, will push past the competition as leaders in a combination of areas truck customers care about the most: range, towing, payload and charge time.
After having recently driven the 2022 Ford F-150 Lightning for roughly 1,000 miles, which included towing and off-roading, those last four factors—range, towing, payload and charge time—become more important than ever when the power for your pickup comes from a battery pack.
There's no question about the amazing speed of an electric truck. I learned that a few years back when briefly test-driving the Workhorse W-15, a concept hybrid with a range-extending engine that eventually morphed into the all-electric Lordstown Endurance.
The Lightning was super quick too. It went from zero to 60 in just under four seconds. It's exciting for anyone lucky enough to go along for a ride. And as we learned, access to instant torque power will also quickly launch you up and over the B.V. Buchanan Bridge near Panama City Beach while towing 7,000 lbs.
Having more precise torque control at all four wheels is pretty amazing as well. While traveling west bound from Jacksonville on Interstate 10, a pickup in front of me lost their ladder. I had to swerve fast to keep from hitting it and aside from a slight tire bark, the truck maintained its composure. I remain completely impressed.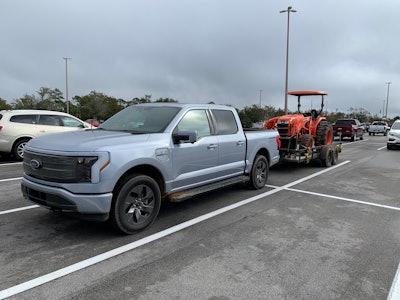 The biggest issues? Range and charging. First up, we could never reach 320 miles of range that's advertised with Lightning's extended range 131kWh battery pack. DC fast-charging at 150kw provided the best range for a while at 283 miles until I charged it overnight using Ford's mobile charger plugged into a 220-volt outlet in the shop.
That first 12-hour overnight session, which showed a 100% charge on the driver's side display, only chalked up 277 miles. What?! How could that be below DC fast-charging which only gets the battery up to a 90% state-of-charge?!
The second night using the 30-amp mobile charger (it's rated at 32 amps, yet it actually delivers 30 amps) got it to 288 miles the next morning, our best yet. That was good, but still a far cry from 320 miles.
I'll have to reach out to Ford on this, but I'm thinking that the law of averages weighs in here. I'm sure this truck—which was showing roughly 8,000 miles when I was done with it—has mostly been juiced up with DC fast charging which is tougher on a battery and will not provide as much range as slower and more battery-friendly AC charging.
And as I learned years ago from my stepdad, an electrical engineer and battery expert who once led GE's now defunct battery division, batteries have a memory. Yes, a memory. So, if the truck had been regularly charged using slower AC current, there's a stronger chance that I could have reached 320 miles. Can you retrain a battery? Yes. But when you've got only five days with an electric truck, it's going to take more than two days of slow AC charging to get there.
And range? Remember I said that we started with 288 miles on that cool 68-degree day—yes, a cool day because ambient air temperatures impact battery performance (more on that later next week). After towing the Kubota tractor for the first half of a roughly 50-mile trip, we were down to 98 miles. Do the math, and that's a loss of 190 miles of range. Poof! Gone.
You can only regain that range by either stopping and charging up more frequently (super difficult to do while towing at charging stations, all of which we found were located in store parking lots) or you can forget towing all together and get back some of that range when you disconnect the trailer.
Lightning will perform a range recalculation when you disconnect the trailer. In this case, following a 50-mile trip, our range was at 190 miles. That means that 50 mile of towing cost us 98 miles of range. Losing half of your fuel economy while towing in a pickup is not earth-shattering news. But when you're down to only 98 miles after traveling about half of your 50-mile towing trip, that's bad news.
All this to say that Ram and GM have played it well by watching and waiting. At the end of the day, my hat's off to Ford for being the first to get a full-size electric pickup to market. I'm sure they knew they were going to take some shots and they are. A neighbor who's very familiar with pickups like a lot of our neighbors called the truck a toy. Okay, I get that but it can be a very fun and powerful ride so long as you're not doing much towing or going on road trips where expediency matters.
There's a lot that we learned in the five days and 1,000 miles we had the truck that I'll be passing along next week. Hopefully by then Ford will have enlightened me regarding that big miss on that supposed 320 miles of range. I've got some other questions for them as well.