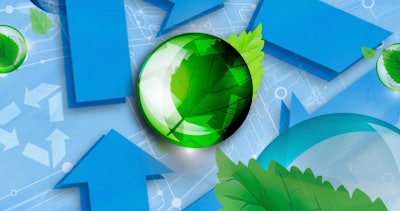 Quest Resource Management Group
Sustainability monitoring and reporting are becoming an increasing concern for businesses operating in today's fast-evolving world – and if you're a fleet operator, you should be paying attention.
With nearly a third of U.S. greenhouse gas emissions coming from the transportation sector and the increasing popularity of ESG initiatives, every manager should be pressing the accelerator on more sustainable business practices. There are many ways to achieve sustainability goals and there are many benefits in doing so.
While the industry continues to pick up steam for green, review these three key business advantages for fleet operators who embrace sustainability monitoring and reporting.
Benefit #1: Reduces costs and improves efficiencies
Sustainability monitoring and reporting reduces costs in several ways.
Condition - Tracking the vehicle's condition and behavior takes maintenance worries off the driver's hands, keeping fleets on the road and business profitable.
Lifecycle Costs - By looking at a vehicle and its parts' life cycles operators can ensure they aren't replacing vehicles before it's needed.
Route Optimization - Tracking fleet allows operators to monitor and assign vehicles according to their proximity to a job, ultimately saving on mileage, fuel and emissions while saving time and productivity.
Compliance - Sustainability reporting helps operators stay compliant with the ever-shifting pool of rules and regulations and avoid potential fees and penalties.
Benefit #2: Helps operators mitigate risk with data-driven insights
Fleets should thoroughly understand their current performance, business policies, and operational demands. Otherwise, it could lead to critical mistakes.
For instance, the rise of electric vehicle production and the number of businesses promising electric transitions makes compelling cases for operators to purchase EVs. A sound idea in theory, but could it be premature without a proper assessment of a fleet's current operations?
Imagine a delivery company procuring hundreds of new EVs without first implementing a plan for how to utilize them. The nation's charging infrastructure may be growing. Still, by making the switch without a charging plan or the appropriate policies (including reimbursements), this procurement could lead to reduced operational capacity, driver dissatisfaction, and frustrated customers.
Making business decisions without a detailed assessment of current fleet performance can be a damaging move. The latest technology may be eye-catching and seem like the solution, but what may work for another company may not be the answer for you thus making it all the more important to have eyes on the ins and outs of your operation with quality data. Whether monitored from the inside out or outside in by a waste service partner, a fleet needs to track its progress, review impacts, and measure data to develop and carry out sustainable goals.
Benefit #3: Accelerates growth with a competitive edge
In addition to growth that will naturally happen without as many vehicle breakdowns, more customers and investors are favoring companies that get behind sustainability. According to a Business Wire study, 85 percent of consumers have become greener with their purchasing and received services.
By including ESG disclosures and sustainability data in annual reports, company values and communications, a fleet can be seen as a reliable, efficient service that actively works toward the betterment of the world.
Using data-backed reporting can ensure that a fleet's operational performance is trending upwards and that sustainability goes hand in hand with wider business objectives. A sustainability strategy doesn't have to be arduous. Working with the right partner to give fleet businesses access to vital sustainability data and reporting can translate to fleet optimization and cost savings, which, in current times, is what all organizations seek.