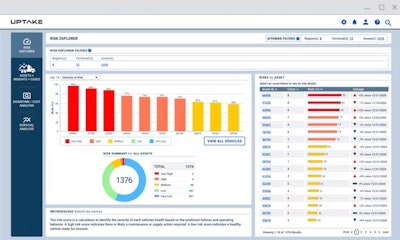 Uptake
Fleet maintenance managers are facing all kinds of roadblocks right now. Labor shortages, supply chain problems, parts inventory price increases and unavailability of used vehicles are all wreaking havoc on their organizations. The impact is felt in everything from repair scheduling and on-time deliveries to driver retention, customer satisfaction and, ultimately, the bottom line.
Yet the greater problem isn't the lack of parts, technicians, or even inflation. It's strategy. Managers must somehow extend the life and uptime of current equipment—which means they need to find a way to become increasingly efficient at prioritizing and scheduling maintenance, even for issues that have yet to be identified.
Considering new solutions
Maintenance strategy begins by focusing on a critical fleet metric: vehicle utilization. While vehicle availability is important, utilization ensures that fleet assets are doing what they're meant to do; namely, grow the business.
Availability is defined as how many vehicles are ready to run. Utilization, on the other hand, refers to how many vehicles are currently in operation and generating revenue. The more specific fleets can get in understanding their vehicle utilization, breaking it down by vehicle manufacturer, shop, or shop region, the better their understanding of how to optimize their maintenance activities to maximize income, retain drivers, and keep customers happy.
What carriers need is a more strategic way to optimize uptime—and that includes identifying high-risk vehicles and prioritizing them for maintenance. A deeper approach to maintenance activity will tell maintenance managers how to:
● Catch catastrophic failures before they cause derates and roadside breakdowns
● Perform proactive repairs that eliminate more expensive repairs later
● Plan around scheduled trips, bringing in at-risk vehicles between assignments
● Bundle repairs for vehicles with multiple critical issues
● Anticipate shortages of parts in order to source and acquire in advance
Putting analytics to work
Predictive analytics give fleet maintenance organizations the strategic answers they're looking for. Moreover, the discipline goes beyond the advantages of preventive maintenance, further reducing unplanned repairs by identifying problems before they're even evident.
In most larger operations that receive 300-400 fault code notifications a day, the standard procedure is to focus on the most imminent and acute issues. Predictive analytics, on the other hand, takes the entire list into account, day after day, to notify fleet managers of the most severe issues impacting trip readiness. Analytics have been proven to reduce roadside breakdowns, improve technician efficiency, reduce maintenance costs and increase vehicle uptime.
Most carriers have already made significant investments in technology that allow the quick adoption of predictive analytics. Electronic logging devices (ELDs) and other vehicle telematics provide huge volumes of vital information, as do computerized maintenance management systems (CMMSs). Terabytes of data are already in hand; what fleets need is a systematic way to leverage this treasure trove of information to ensure drivers stay on the road, instead of in the shop or by the roadside.
Modern predictive analytics solutions process data from various sources using pre-trained, highly accurate predictive models. Results are integrated with the fleet's work order management system, enabling managers and technicians to make intelligent future decisions within the course of normal operations.
Maintenance organizations are often shocked to witness just how on-target predictive analytics can be. Modern fleets simply can't function on systems that are only partially accurate, so predictive solutions meet a high standard for correctly identifying future problems. Over time, analytics can reveal upcoming failures, broken out by individual components so fleets gain a remarkably spot-on picture of vehicle health.
Quick ROI
Implementing a predictive maintenance analytics system like
Uptake Fleet
can happen not in months, but in a few weeks or even days. The best way to begin is with a trial. Systems are easy to set up; all that's required is a data feed from the vehicles and some historical information. Soon the system will provide insights for individual trucks as well as more general insights based on year, make, and model. Moreover, predictive maintenance systems speak the language of technicians, making adoption curves quick and easy.
Carriers are experiencing more bumps in the road today than they have in decades. A predictive solution can not only minimize the operational debris, but also clear the road ahead. Maintenance organizations need a better approach to overcoming the issues they face—and analytics have the ability to keep rigs, as well as the businesses that operate them, on the roll.
Jim Rice is vice president of Transportation for Uptake, an industrial analytics platform that delivers products to major industries to increase productivity, security, safety and reliability.