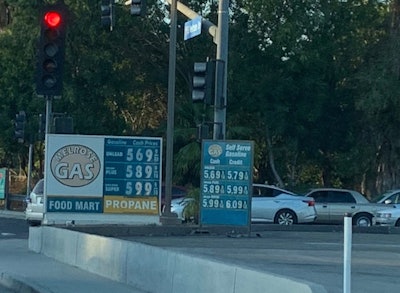 Tom Quimby
The Biden administration on Wednesday proposed suspending the collection of state and federal taxes assessed on gallons of gasoline and diesel fuel, a plan that will cost the Highway Trust Fund approximately $10 billion.
Biden called on Congress to suspend the federal gas tax for three months (through September) and asked states to follow suit or find an alternative that provides similar relief to consumers. A number of states this year temporarily suspended state fuel taxes, but many of those have expired and were not-renewed. Illinois and Colorado delayed planned tax and fee increases. Michigan and Minnesota are among the states considering a number of forms of consumer relief – from temporary suspensions and pauses on state sales tax on gas to consumer rebates and relief payments.
Federal taxes include excise taxes of 18.3 cents per gallon on gasoline and 24.3 cents per gallon on diesel fuel, and a Leaking Underground Storage Tank fee of 0.1 cents per gallon on both fuels. State taxes vary by state but average about 32 cents per gallon on both diesel and gasoline.
American Trucking Associations President and CEO Chris Spear said his organization opposes the suspension of tax collection, calling it temporary relief that will undo much of the positive momentum of highway infrastructure improvements.
"After months of touting the passage of the well-funded Infrastructure Investment and Jobs Act – a much-needed investment in our nation's roads and bridges – the Biden Administration wants to cut that same highway system's primary source of funding with a suspension of the federal fuel tax," he said.
While the suspension of the tax won't add funds into the Highway Trust Fund, Biden called on Congress to ensure the fund remained whole. Citing a $1.6 trillion deficit reduction this year, the White House said Biden believes the tax can be suspended and the cost offset with other revenues.
Spear, rather, proposed that the administration work toward making the U.S. energy independent – "stop kissing the ring of Saudi Arabia," he said; renew trade agreements with the European Union and Asian Pacific nations in order to export more American oil and natural gas; and balance the budget. "Stop wasting hard-earned taxpayer dollars on senseless programs that drive up inflation and runaway deficits," Spear added. "Energy independence, trade and a balanced budget. Do that and America wins."
The suspension of the tax could be risky as station operators wouldn't be required to pass through the savings, and it is the latest measure the administration has deployed in an ongoing effort to drive down fuel prices, which to-date have not worked.
The administration in March announced the release of a one million barrels per day from the U.S. Strategic Petroleum Reserve; rallied international partners in April to release a combined 240 million barrels of oil on the market; expanded access in March to biofuels like E15 – gasoline that uses a 15% ethanol blend; and is currently engaging with oil and refining companies to ask them to to bring forward solutions that increase refinery capacity and output.