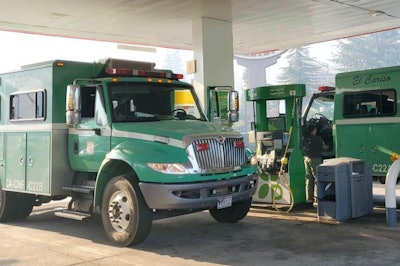 Propel Fuels
As fuel prices continue their historic rise, two popular renewable fuels are saving drivers cash at the pump.
This week, vehicles running on E85 can cost significantly less to fuel up at stations in California and in the Midwest. California drivers are also saving on renewable diesel which in several cities is pricing out cheaper than conventional diesel.
It's no secret that drivers in California are up against some of the highest fuel prices in the nation. The average amount for a gallon of regular E10 was selling for $6.44 a gallon on Tuesday according to AAA, while the national average hit an all-time high this week of $5 a gallon.
Flex fuel vehicle owners can avoid those high prices by filling up on E85 which contains 85% ethanol. Propel Fuels' app showed at least two stations in Southern California selling E85 at $4.09 a gallon on Tuesday, a 44% drop from California's average price per gallon for E10 regular.
Gas stations in the Midwest have also been offering E85 at prices far below E10. A Kum & Go station in Springfield, Mo. on Tuesday according to gasbuddy.com was selling E10 regular at $4.49 a gallon and E85 at $3.29, a 31% savings.
Renewable diesel prices in California are also passing along savings. Propel's Chula Vista and Ontario locations was priced at $6.79 a gallon Tuesday, or roughly 3% less than the state's average diesel price of $6.99.
California's E85 advantage over E10 doesn't come as a big surprise for American Coalition for Ethanol (ACE) chief marketing officer Ron Lamberty.
"In addition to being the largest user of gasoline with 10% ethanol, some very aggressive E85 retail marketing—with E85 selling at much, much lower prices than gasoline—has made California number one for E85 sales for a few years now," Lamberty said.
"The state has favorable tax laws for alternative fuels and the value of Low Carbon Fuel Standard credits and Renewable Fuel Standard RINs gives retailers margins that are often higher than their other fuel grades, yet much lower priced at the pump," Lamberty continued.
According to ACE, 62 million gallons of E85 were sold in California last year which amounts to a roughly 1,000 percent surge in E85 sales since 2012. "And they're still increasing," Lamberty said. "At the pace E85 is growing today, Californians could be over 100 million gallons of E85 by 2025. Maybe 2024."
Using E85 can result in a loss in fuel economy. The U.S. Department of Energy reports that fuel mileage with E85 will drop 15 to 27% compared to E10.