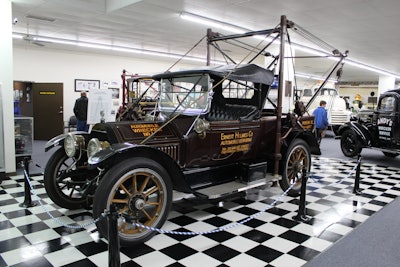 If you've ever driven up to Lookout Mountain in Chattanooga, Tenn., then you know how steep those drops are from that scenic, winding road.
Now imagine trying to recover a vehicle that's taken the plunge off the hillside. It's challenging enough with today's technology and even more so over 100 years ago.
It was those exhausting and dangerous jobs which took several hours and several men that led mechanic Ernest Holmes, Sr. to invent and receive the first U.S. patent for a tow truck in 1918.
The International Towing & Recovery Hall of Fame & Museum in Chattanooga, Tenn. pays tribute to Holmes and other towing icons who throughout the past 100 years have answered the call day or night to tow or haul vehicles around the world.
As museum general manager Cathy Brumgard explains in the video below Holmes didn't give up on his idea and with the help of his wife, Hattie, he built the nation's first patented tow truck on the chassis of a 1913 Cadillac.
The museum has a variety of tow trucks on display and also honors those who have been killed on the job which tragically amounts to roughly 60 tow operators a year.