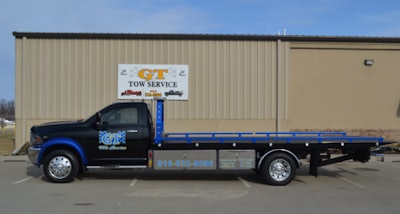 The owners of a tow truck company in Missouri whose son was killed while attempting to move a disabled vehicle are now mourning again following the hit-and-run death of another one of their tow truck drivers.
John "Johnny" Stewart was killed Sunday night in Kansas City along Interstate 35 near North Brighton Avenue while securing a car on his truck. The driver of the black sedan that truck Stewart fled the scene. That car, which was heavily damaged by the impact, was found this afternoon and a suspect was taken into custody.
Stewart, who died at the scene, was killed roughly six years after 18-year-old Blake Gresham was also struck and killed on I-35 in Kansas City while responding to a stranded vehicle. Both men had worked for GT Towing Service according to kansascity.com.
Gresham's parents, James and Amy Gresham, the owners of GT Towing, started the non-profit 'Move over for Blake' following their son's death in 2012. Proceeds go to raise awareness about Missouri's move-over laws, which includes buying billboard space to remind drivers to be on the lookout for workers on the road. Several posts on their Facebook page are dedicated to 'Move over for Blake,' and now their latest post pays tribute to Stewart.
"Lost yet another family member of GT Tow John Stewart (Johnny) to a senseless tragedy because someone didn't slow down and move over!!!," GT Towing posted on their Facebook page today. "Cannot stress this enough…PLEASE SLOW DOWN AND MOVE OVER!! RIP Big Guy."
However, some do not feel 'slow down and move over laws' are having much impact.
"Slow down, move over does not work!!!!," wrote one user on GT Towing's Facebook page. "Going to have to have stiffer penalties for this horrific crime. My husband was killed back in 1985. SLOW DOWN, MOVE OVER is not working and been trying this tactic over 30 years."