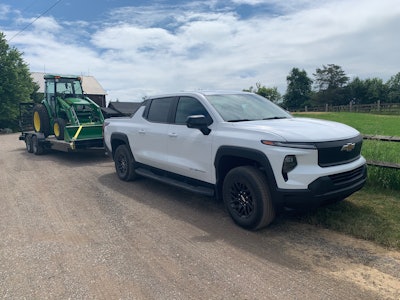 Tom Quimby
It's hard not to embrace the benefits of an electric pickup: low maintenance, lower fuel costs, instant torque, improved handling particularly while towing, exportable power and zero emissions.
But range, charging infrastructure challenges, long charge times and higher upfront costs understandably pose concerns for truck owners.
Chevy has worked hard to address those concerns with the 2024 Chevy Silverado EV Work Truck and save for the steeper sticker price relative to internal combustion, it's making some notable strides.
A media event in Michigan this past week gave reporters, including this one, a chance to get more familiar with Chevy's first full size all-electric truck.
Some may recall Chevy's first foray into battery-powered pickups roughly 25 years ago. The all-electric midsize S-10 entered the market for fleets in California in the late 1990s. The first version for model year 1997 offered 44 miles of range with lead acid batteries. The 1998 model jumped up to 95 miles thanks to nickel-metal hydride chemistry. Both trucks came with an electric dump bed. Pretty cool.
Now Chevy is offering 450 miles of range with its 2024 Silverado EV Work Truck thanks to its Ultium battery. That's the first iteration. A less expensive 350-mile work truck is scheduled to roll out later this year along with a luxury-minded 2024 RST First Edition that will offer 400 miles. Trail Boss will follow next year. Sorry, there's no dump bed in store for any of those models and there's a solid reason for that.
Engineers explained that the Ultium battery is an integral part of the construction of the Silverado EV which puts it into the unibody category and paves the way for more battery cells and more power. But with that added power comes added mass. Curb weight for the 450-mile variant is roughly 8,000 lbs. which makes it a Class 2 truck. While that does improve handling especially while towing, its extra weight adds up to higher registration fees at the DMV.
[Related: Charging considerations in the F-150 Lightning]
To help the transition to EV ownership easier, Chevy is encouraging companies to turn to its 220-volt Level II charger for overnight charging at the yard which avoids the extra cost and infrastructure changes that come with DC fast-charging.
While on the road, drivers can turn to the company's Ultium Charge 360 initiative and mobile apps which will provide access to 134,000 chargers plus an additional 12,000 Tesla Superchargers.
Given the Silverado's EV to handle an impressive 350kW charge rate (Ford Lightning lags behind at 150kW), the truck can add 100 mile in ten minutes through DC fast-charging.
Keep in mind that DC fast-charging is more expensive. Following our 800-mile road trip with the 2022 Ford F-150 Lightning, fast-charging added up to 32 cents per kWh while 220-volt overnight AC charging dropped down to 8 cents per kWh. That was Florida. Prices will vary depending on location and time of day that you charge.
Charging overnight during off-peak times results in a less expensive rate and in the case of the Lightning will provide a 100% charge versus the max 90% charge through fast-charging. The Silverado EV, on the other hand, can take a 100% charge regardless of charger type. Silverado EV chief engineer Nicole Kratz said she and other engineers who have been testing the truck have consistently reached 450 miles on a full charge and beyond.
That's good news. We could only reach 288 miles on a 100% charge with the Lightning and not the 320 miles advertised with the extended range battery pack. Ford noted that past driving habits such as towing and highway driving will impact the overall range average. For the uninitiated, that's a tough transition coming from internal combustion where every fill-up brings the vehicle back to full range.
Besides costing less, AC overnight charging is also easier on the battery which is something to keep in mind for vehicle life and resale value. After all, telematics can reveal overall battery health which is at the heart of every EV.
Ready, set, tow!
It would have been tough for Chevy to have picked a more picturesque venue for its towing test. Valley Farm in Ann Arbor provides an inviting barn scene amid acres of vibrant farm land for family reunions, weddings and in our case test drives.
Reporters arrived at the farm following a roughly 54-mile drive from our hotel on mostly two-lane country roads. We swapped seats half-way to allow for equal drive time. The trip was mostly uneventful: predictably smooth and quiet with the most impressive moments coming from curves where the truck performed remarkably well with its low center of gravity.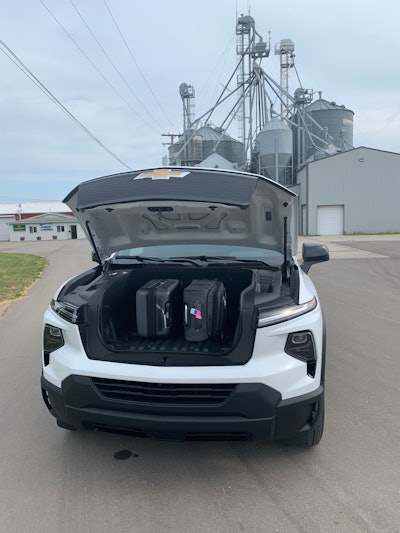 Towing was more impressive and that's important since the crew cab is designed to be a work truck. Once at The Valley, I got behind the wheel of another Silverado EV Work Truck that was hitched to a 16-foot dual axle flatbed topped with a John Deere tractor that Chevy said amounted to a 9,000 lb. load. Max towing is rated at 10,000 lbs.
Right from the start, towing was smooth and easy. Remember, this is the equivalent of a Class 2 truck that's rated at 510 horsepower and 615 lb.-ft. torque. Having access to instant torque makes a nice difference from a dead stop and when taking on inclines.
[Related: Towing trouble in the F-150 Lightning and more]
With up to 14 camera views, including two plug-in options near the hitch that provide increased trailer visibility, it's hard not to feel comfortable towing. Most of the credit though goes to the overall handling of the truck. It feels like the trailer is a natural extension of the truck. It drives smaller was a comment that came up more than once among reporters. Part of that roughly 12-mile journey took us offroad on dry dirt roads where the truck showed off its suspension a few times by quickly taming bumps and dips.
Power management and consumption is where the truck really stood out for me. It didn't have the concerning range recalculations that I kept getting with the F-150 Lightning and more importantly it provided much more range.
I started towing with 150 miles of range. At the end of that run, the digital display was showing 139 miles of range with a 55% state of charge. Lightning provided 122 miles of range at a 100% state of charge for a lighter 6,000 lb. load. Big difference.
Brake regen is a big help in terms of energy conservation. There are three settings on the electric Silverado to choose from: off, standard and high. I like using the high setting to recoup as much energy as possible especially while towing.
An energy meter on the dash shows how much power you're gaining back while slowing down. For a long, smooth stop, just gradually ease off the accelerator. For a quicker stop, back off the accelerator faster and the truck will come to a faster stop. Of course, you can always use the brake pedal too which I rarely had to do during my time with the truck which translates into longer brake life. Hopefully before too long OEMs will display a brake life metric relative to brake regen use.
The high brake regen setting will lunge you forward if you let up on the accelerator too quickly. For me it's an interesting challenge to master brake regen. It reminds me of mastering downshifting with a manual transmission as you approach a stop. For folks who really like to drive it's an engaging process that's tied to instant feedback you can see on screen. You're always motivated to beat your high score.
A ten-mile trip the previous day had really showed just how much brake regen shines. While driving an unloaded electric Silverado on city streets, the high brake regen setting went to work in stop and go traffic to keep the range meter barely moving from 372 to 370 miles for the entire run. Granted, you won't get the same performance during highway driving unless you're up against frequent traffic jams that require a lot of stopping and going. If you're not a fan of using the high setting of brake regen, you won't regain as much energy. I won't be surprised if this is eventually tied to an Environmental Social Governance (ESG) score. In the meantime, it just makes great sense to make the most of an energy opportunity.
Spartan-plus work truck
The interior of the 2024 Chevy Silverado EV Work Truck is fairly basic save for the digital displays which are a quick reminder of its all-electric pedigree.
The 11-inch center and 8-inch driver displays are easy enough to navigate except for the truck's off button. It's a small icon about a ¼-inch in diameter at the top of the center display that you have to hunt for since it's lined up with other similar sized icons.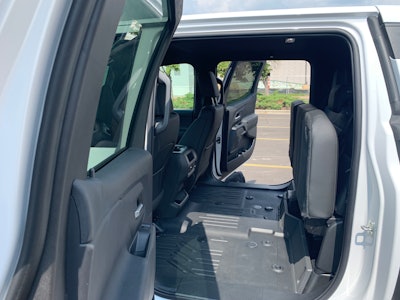 I'm not sure how much GM saved by avoiding a larger button on the dash but it comes across like one of those frustrating cost-cutting measures that makes the off button appear like a hasty afterthought. Once you press the icon a message pops up on the screen asking if you'd like to proceed with the shutdown. At that point you can either turn off the truck or cancel.
The floor looks sturdy enough and appears to be made from a rubber-like material prepared to handle plenty of muddy boots and coffee mishaps.
While the manually adjustable chairs are comfortable, they will not elevate which was a little odd when I first got in. At five-five foot ten inches tall, I'm not exactly the tallest or shortest driver out there but in the electric Silverado I felt too low in the seat.
The seat provides a good amount of cushioning and the chair back felt comfortable too. Faux leather provides a nice look and appears ready to handle a tough workday.
Below the center console is a cubby where you'll find two USB C plugins and a 12-volt round plug. Passengers in the rear have two USB C plugins alongside a 12-volt round plug on the back of the center console. I couldn't find any charge ports inside the center console.
The back seat lifts up and locks in place to provide generous floor space and access to cubbies for more storage. Drink holders are plentiful throughout but I didn't see one large enough to handle a quart size bottle.
We didn't have a chance to utilize the bed which has a max payload rating of 1,440 lbs. It can be optioned with a spray-in bedliner and a hard or soft tonneau.
The frunk provides impressive space for additional storage. In this case, another reporter and I stowed our carry-on luggage. The hood unfortunately did not lift up after depressing the unlock button on the key fob. We had to manually lift it each time. The hood will automatically rise on the RST.
Exportable power is delivered through seven outlets with the standard option of 7.2 kW of offboard power. Upgrade to 10.2 kW of power and get up to 10 outlets with the accessory power bar.
Final thoughts
The 2024 Chevy Silverado EV Work Truck offers the strongest case yet for a full-size electric pickup. However, for all the impressive capability and features the truck has to offer, it's the price that's truly disappointing. Citing supply chain challenges, Chevy announced that its first full size electric pickup, the WT4, will start at $77,905 plus destination. The 350-mile WT3 model will start at $72,905 and the RST First Edition with a 400-mile range will start at $105,000.
In addition to offering lower maintenance and energy costs over internal combustion, Chevy pointed out that qualifying fleets can take advantage of the current $7,500 federal tax credit. Plus, with the push for companies to cut emissions, Chevy noted that its truck will appeal to fleets that are earnestly pursuing sustainability goals.
With battery chemistry and charging technology ever improving, electric pickups are here to stay and Chevy appears to have taken them to the next level particularly in terms of greater range and faster charging. Of course, all things being equal, it would be ideal to subject the electric Silverado to the same testing that the Lightning faced here in Florida. You can learn a lot about a truck after a week and a thousand miles.