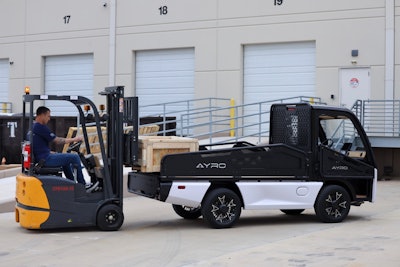 AYRO
AYRO announced that pre-orders are now open for its 2023 Vanish, a low-speed utility EV (LSEV) that seeks to bridge the gap between full-size electric trucks and smaller electric utility carts.
Vanish offers a variety of swappable bed configurations so the vehicle can easily adapt into a flatbed, utility truck bed (both light- and heavy-duty) and either a van or food box configuration without the need for multiple vehicles that each have a dedicated function.
Vanish use cases include urban delivery, hotels and resorts, corporate and medical campuses, food and merchandise outlets, university campuses, golf courses, stadiums and arenas and governments and municipalities.
"We see ourselves as a pioneer in the LSEV space," said AYRO CEO Tom Wittenschlaeger. "Our lightweight architecture, adaptable configurations, and efforts in sustainability are, in my view, unsurpassed in today's marketplace. Announcing the availability of pre-orders is a significant step in bringing the Vanish closer to market."
AYRO will accept pre-orders for the 2023 AYRO Vanish online at https://build.ayro.com/. Customers may customize their Vanish or fleet of Vanish vehicles on the site for pre-order. This includes the ability to choose the adaptable payload configuration that best suits their needs.