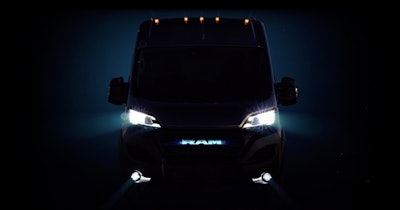 Ram
Ram Truck announced that fleet management company Merchants Fleet will become a key commercial customer of the all-new Ram ProMaster Electric Van (EV) which is set to debut later this year.
The agreement calls for the purchase of 12,500 Ram ProMaster EVs over the next several years.
"At Ram, we are laser-focused on offering our customers electrified solutions with disruptive, leading-edge advanced technology that meets real-world demands, and we are thrilled Merchants Fleet recognizes our all-new ProMaster EV will do exactly that," said Ram CEO Mike Koval Jr. "Our all-new ProMaster EV is Ram's first EV offering in North America, and an integral step in our electrification journey that will offer more efficient options to all of our customers."
The all-new Ram ProMaster EV will be introduced later this year, and will be the first fully electric vehicle offered in North America from Ram and parent company Stellantis.
[Related: Midsize electric Ram pickup excites dealers]
Merchants Fleet said the agreement underscores Merchants Fleet electrification leadership position, while the additional inventory from Stellantis will allow Merchants to provide fleet managers with an extensive selection of short and long-term EV leasing options, allowing them to pilot flexible new solutions to meet the evolving needs of their fleets.
"We take great pride in our partnership with Stellantis, which plays a crucial role in our strategy to create an innovative EV ecosystem for our clients," said Brad Burgess, Senior VP of Fleet Sales and Strategic Solutions at Merchants Fleet. "This collaboration allows us to provide our clients with exclusive access to EVs, and a level of flexibility they simply can't get anywhere else."
The Merchants Fleet agreement follows a previous announcement that Amazon will be the first commercial customer for the new Ram ProMaster EV. Stellantis and Amazon will be putting thousands of ProMaster EVs on the road every year. Ram reports that additional ProMaster EV Commercial/Fleet customer announcements are coming in the months ahead.
Ram ProMaster EV is a critical part of Ram's electrification journey and is significant contribution to the Stellantis Dare Forward 2030 strategic plan to lead the way the world moves by delivering innovative, clean, safe and affordable mobility solutions.
Ram recently introduced the all-new Ram 1500 REV battery-electric vehicle, which is scheduled to arrive in 2024. Ram will offer electrified solutions in the majority of its segments by 2025, and in all of its segments no later than 2030.
Ram ProMaster EV is the first of the 26 new electric CV launches that will contribute to reach a 40 percent zero-emission mix by the end of the decade.