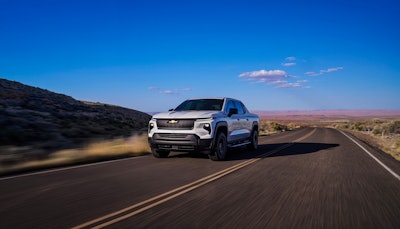 Chevy
Chevy announced that it's electric Silverado EV Work Truck (WT) has an EPE-estimated range of 450 miles which beats out the electric Ford Lightning by 130 miles.
Not only that, but the Silverado EV can charge at a faster rate of 350kW while the Ford Lightning is restricted to 155kW.
"Our engineering team long targeted at least 400 miles of range, but they were able to go above and beyond to achieve this increase," said GM spokesperson Megan Soule. "Over the past several months, extensive development and testing unlocked the increased 450-mile range. This figure, paired with the ability to charge at 350kW, makes the Silverado EV WT the choice electric pickup to serve fleet buyers' needs."
[Related: Chevy reveals electric Silverado with 20K pounds max towing]
A ten-minute charge at 350kW will provide 100 additional miles of range making the truck more appealing to time-conscious fleets.
Overnight AC charging is preferred to help prolong battery life. A dual charge cord enabling 110- and 220-volt AC charging will be standard in every truck both WT and RST trims for the 2024 model year.
Chevy remains on track to launch the 450-mile model of the Silverado EV Work Truck this spring followed soon after by a 350-mile edition. The Silverado EV RST First Edition is scheduled to roll out this fall.