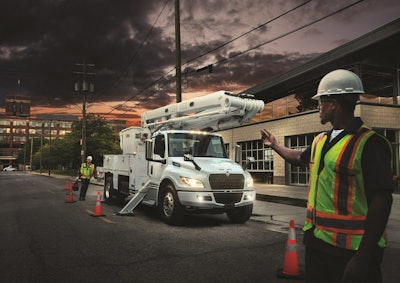 Navistar said Monday it will add a factory-installed ePower and electric power take-off (ePTO) electrical system as available option on its battery electric International eMV.
With the availability of the ePower and ePTO electrical system options, fleets have the ability to spec International eMV Series Class 6 and 7 battery electric trucks – first introduced in 2021 – for additional market applications.
"In less than two years, we have partnered with customers to expand the original box truck application of the eMV Series into electric bucket trucks, mini mixers, stake dumps, utility vehicles and more," said Debbie Shust, VP, Medium Duty Truck Business, Navistar. "Now, we are proud to provide ePower and electric power take-off options for customers that utilize the vehicle's battery to provide power to other parts of the vehicle."
Terex Utilities, a manufacturer of materials processing machinery and aerial work platforms, last year announced the industry's first all-electric bucket truck mounted on an eMV Series chassis. Navistar also partnered with Morgan Truck Body on a prototype dry freight cargo van body integrated on an eMV Series chassis.
Penske Truck Leasing became Navistar's first U.S. eMV Series customer, purchasing multiple vehicles and took delivery in April 2022. Canadian utility provider ENMAX purchased two eMV Series trucks to join its fleet of mobile command centers as part of a pilot program. The program is the first of its kind in the Canadian market, focused on cutting fuel costs and determining the cost efficiency of EVs. Altec, a truck equipment manufacturer (TEM) serving the utility and contractor markets, took delivery of an eMV Series chassis upfitted with an Altec TA-60 body.
The ePower electrical system option pulls power directly from the electric vehicle's battery pack and is the foundation for electric transport refrigeration unit (eTRU) applications. The eTRU is an especially important solution to help customers meet sustainability goals and regulatory requirements.
"We worked in close collaboration with transport refrigeration unit providers and leading food transport service fleets, including Performance Food Group, to develop and bring this solution to market," said Shust.
The ePTO electrical system option pulls power directly from the vehicle's battery and utilizes an electric motor to convert power for other systems on the truck, such as a boom or concrete mixer. Electric utility and telecommunications equipment provider Altec has taken delivery of the first eMV Series truck with a factory-installed ePTO electrical system to operate a pilot distribution bucket truck. Altec has also committed to ordering additional International eMV Series trucks with the ePTO option for upfit and sale to its utility customers in 2023.