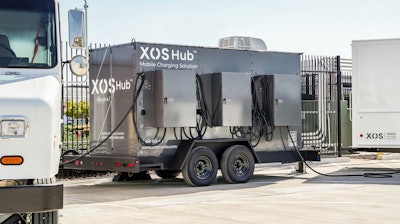 Xos
Electric truck maker and fleet services provider Xos unveiled today its second generation Xos Hub, a mobile charging solution that enables flexible and scalable access to DC fast-charging without the need for permanent infrastructure.
The newest Hub features integrated battery storage with an energy capacity of 390 kWh and an increase in charger output by 60%, from 25kW to 40kW, resulting in faster charge times for electric vehicles.
The five CCS 1 chargeheads enable the Hub to charge up to five electric vehicles at once and are compatible with both commercial and passenger electric vehicles.
Additional features of the Hub include a 43% shorter footprint than its predecessor, from 28' to 16', and enhanced safety features such as the addition of circuit protection and an emergency stop button. The introduction of software and a telematics device help determine the best charging times for the Hub based on off-peak and peak hours, enabling a full charge in five hours and helping mitigate electricity costs.
"We consistently hear from our customers that charging infrastructure remains the biggest barrier to taking delivery of our electric vehicles, so we're incredibly excited to introduce the new Xos Hub and provide an easy, available, and mobile solution for DC fast charging," said Danny Marquez, Director of Xos Energy Solutions and Products at Xos. "The Hub is an ideal solution for fleets that will help alleviate infrastructure delays and accelerate widespread fleet electrification."
The second generation Xos Hub was designed, engineered, and tested over a 12-month period with customer feedback and requirements in mind. Similar to the recently launched 2023 Xos Stepvan, technology highlights on the Hub include over-the-air software updates and seamless integration with the Xosphere fleet management platform.
"We designed and built the second generation Xos Hub to fit an important need of our customers for flexible, scalable, and quick-to-deploy charging infrastructure," said Scott Zion, Xos' head of engineering. "To ensure the Hub's reliability and durability, we conducted comprehensive testing of electrical, thermal, and vibrational components to confirm a robust product that can be safely transported from site to site while protecting the internal batteries and power electronics."
Additional testing is underway to make the Hub eligible for federal and state funding. Currently, the first unit of the second generation Xos Hub is in operation with a major parcel delivery operator in Northern California.
The Xos Hub is available for lease or purchase now. For more information, contact [email protected] or call (818) 316-1890.