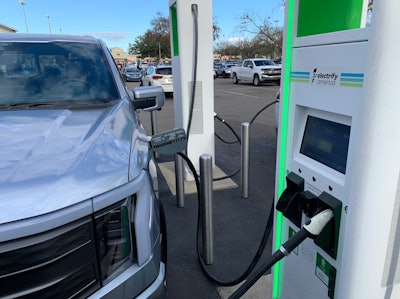 Tom Quimby
The one thing that will really improve the bottom line when it comes to total cost of ownership for an F-150 Lightning, and other EVs for that matter, is charging.
Though faster is better when it comes to a lot of things—package deliveries and internet speeds for instance—slower is actually better when it comes to charging an EV battery so long as you've got time to spare.
Following a thousand miles of driving in a 2022 Lightning Lariat, we learned that slower AC overnight charging is less than one-third the price of DC fast-charging, delivers a little more range and is better for the battery.
But during our roughly 800-mile road trip with Lightning, which was spent mostly on interstates in Florida, we had only one opportunity to use AC charging and that was at a Ford dealer in Deland. The hotel we stayed at in Orlando did not offer EV charging which would have been ideal. Just plug in, sleep and wake up to a charged truck.
Of course fast charging is typically the best choice when you're out on the road and too far from home or the office to return for an overnight charge. It's also a lot more expensive.
[Related: Surprising range recalculations in Ford F-150 Lightning]
That big trip to central Florida revealed that Electrify America chargers cost 43 cents per kWh whereas charging at home from a 220-volt outlet through Ford's supplied 30-amp charger cost only 13 cents per kWh, a pre-tax savings of 230% (yes, there was a DC fast-charge tax of 8% in our case). That's giant in the world of fuel costs which typically rank as one of the greatest fleet expenses.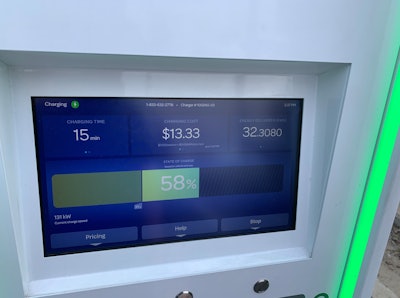 AC charging also got the truck to a 100% charge whereas a DC fast-charge cut off at 90% to protect the battery. Now, you would think that a 100% charge would get more range than a 90% charge, and it did following our second and final overnight charge but not by much.
The extended range 131kWh battery in our Lightning Lariat is advertised with a max of 320 miles. Despite various DC and AC charging sessions over several days and a thousand miles of driving, we never came close to that.
For a while, our best charge came from Electrify America in Tallahassee which took us to 283 miles following a 45-minute session that ended at 90% state of charge.
Here's where it got interesting and disappointing. In responding to a question on daily charging (Ford lists 22 frequently asked questions concerning charging on its website), Ford recommends that "you charge to 90% for everyday driving and charge to 100% when you need the full range for a trip."
The only way you're going to get to a 100% charge is through slower AC power. Ford's supplied charger can be used at a 110-volt outlet which will only provide about two miles of charging per hour. I did that the first night with Lightning and ended up with 16 additional miles of range following an 8-hour session through a 20-amp circuit. I simply did not have the time needed to keep it charging to a full 100%.
The second time I tried AC charging, I switched out the 110-volt plug with the Ford-supplied 220-volt plug and hooked it up to an available outlet in the shop that was thankfully close to the shop door. You only get a 20-foot cord to go from an outlet to Lightning's charge port on the back of the driver's side front fender.
After plugging in, Lighting reported on the driver side dash that it would take 12 hours to fully charge the truck from a 50% state of charge. I gave it 14 hours just to be safe. In the morning, I checked the truck expecting to see over 300 miles of range. Instead, a 100% charge had only provided 277 miles, which was six miles less than that DC fast-charge session in Tallahassee. Crazy.
After buzzing around in the truck that day, I plugged in again that night and checked the dash in the morning. This time a 100% charge delivered 288 miles, the best I'd see.
Vince Mahe, Ford's chief engineer for Lightning, told me that there "are a lot of factors that impact range" including speed, weather conditions and road grade. When towing, trailer weight and aerodynamics also come into play.
Nonetheless, the truck should have gotten to the full 320 miles of advertised range on 100% AC charging and then made its range recalculations based on current driving conditions. In this case, we're talking flat Florida roads in the winter with temperatures averaging from the mid 60s to mid 70s°F. In other words, pretty ideal driving conditions for an EV battery.
The best laid charging plans
Before you hit the road, you can enter your destination in Lightning's route planner which will show you when and where to charge along the way. It will also show your arrival time with charging accounted for. You can also choose specific charging stations like Electrify America, EVgo and Florida Power & Light's EVolution chargers. It's an impressive tool and a reminder of just how much longer you'll have to spend charging on your road trip versus a quick fill-up at a gas station.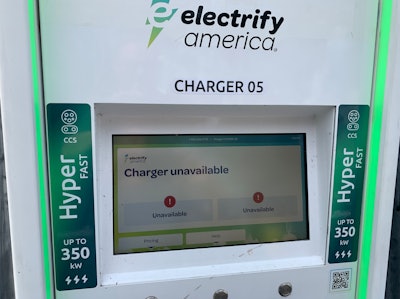 If you don't like waiting 45 minutes to refuel your electric truck—and who does?—you can try timing out a meal around charging.
That worked the first time when we charged up in Tallahassee around lunch time. But that was it. Daily meals just didn't align with other charging sessions. The chargers we used were located in shopping center parking lots that typically offered dining opportunities within walking distance.
In addition to costing plenty of time (Ford covered the cost at Electrify America chargers), some chargers were not up to the task. This happened at our first session in Tallahassee. I pulled up to a charger ready to plug in only to be greeted by a disappointing message on the screen that read, "Charger unavailable."
Since Lighting's charge port is only on the driver's side, I had to back out the truck in a fairly busy parking lot and pull it back in to an adjacent charger that was up and running.
The worst charging time was had at an Electrify America station at a Walmart parking lot in Ormond Beach just north of Daytona Beach. I pulled up to a charger that was unavailable and found out that two more nearby were also offline. I lucked out and pulled up to another charger close by only to find out that the charger cord holder was busted. While the charging session went well, it didn't exactly feel all that great hanging the cord over the top of the charger so that it wouldn't lay flat on the ground where it could be run over.
Since I was having no luck with the Ford Pass app (which I later learned was partially my fault since a confirmation email had gone to my clutter inbox), I leaned on Electrify America to let me know when charging was done. That didn't work. Each time I entered my phone number to receive charging updates via text messaging, I never got one.
One of the more memorable charging sessions came at Coggins Ford in Deland just east of Daytona Beach. We were there to check out a car for my 17-year-old son (he never misses a chance to scope out deals when we're traveling) when I spotted a red Lightning Platinum at a dealership next door. A salesman was more than happy to plug me into a nearby AC charger while we were shopping. That session didn't cost a dime and added 22 miles in roughly 90 minutes.
Each time the truck was charged, a fan kicked on at the grille to help keep the battery at room temperature while charging. During DC fast-charging, the fan runs at a higher speed because it's generating more heat with a much higher flow of electrons.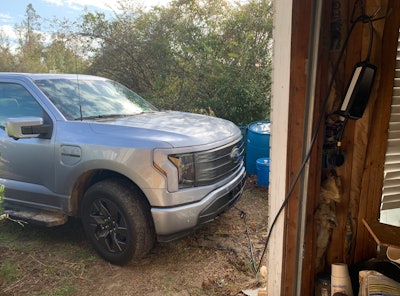 And Lightning has an electron appetite that appeared to put other EV drivers on guard. We never saw another Lightning on the road during our 1,000-mile journey and when we pulled up to a charger, I was getting looks that made me feel like a 300-lb. lineman diving into a buffet. At least two EV drivers left their much smaller vehicles behind to walk over and check out the charger screen while Lightning was guzzling juice. Save for an electric bus charging in Jacksonville, we had the biggest battery around and it needed plenty of charging to fill up. Not one person at the chargers walked up and said, "Hey, is that the Ford Lightning?" It was more like questionable looks of, "Who invited you to the party?"
Charging areas could be cramped. Electrify America in Tallahassee was spacious enough but their stations in Gainesville were so tight that I could barely squeeze out of the truck for fear of striking the door against a parking pole. Save for one spot in Jacksonville where that electric bus was charging, there was no way I'd be able to charge the truck while towing.
While there have been plenty of tough stories about people waiting for hours to charge up, we only had to wait a few minutes at the EA charger in Jacksonville since some bozo in an electric passenger van didn't bother to move his vehicle after charging and instead just left it there. That ticked off more than one person.
When we did venture away from EA chargers we ran into a problem. We stopped at an FPL EVolution charger near Lake City and after plugging in a message popped up asking me to scan the QR code to create an account. My iPhone kept giving me an error code so we moved on to use the EA chargers in Gainesville.
Since Florida is second only to California in terms of EV proliferation, the state offers more charging opportunities than I first realized. I could travel throughout the state and not have to worry about running out of power. It's just a bunch of extra time spent charging which most fleets and consumers cannot afford.
Our 800-mile round trip through the Sunshine State cost $124 for DC fast-charging. Had we driven my 2014 Tundra which averages 19 mpg highway, it would have cost roughly $130 and would have saved us hours in charge time. If we had done nothing but AC charging, that same trip would have cost like $37. Of course, we'd probably just be getting home by now.
Better for your battery
Yes, DC fast-charging charges EVs faster and certainly doesn't hurt EV sales—but it can also lead to faster battery degradation. Just like heat is the enemy of internal combustion, it's also an enemy of powertrain batteries. The plain fact is that DC fast-charging generates more heat than AC charging.
"Heat is always the enemy," said Greg Less, technical director for the University of Michigan's battery lab.
"If the cells and the battery were engineered to accept a 10-minute charge, then it is likely OK, but certainly not the best practice for keeping your battery in top condition for as long as possible," Less continued. "Think of it like redlining your ICE (internal combustion engine). You can do it once in a while without causing any serious damage to the engine, but you wouldn't want to do it all of the time."
While Ford does not speak directly to DC fast-charging concerns in its long list of charging FAQs, it does recommend charging to 90% state of charge to help "prolong the life of your battery."
AC is key for the bottom line
Though Lightning is a much tougher sell for fleets and consumers interested in timely road trips, the truck will absolutely shine in situations where it's kept closer to home.
In this case, utilities, landscapers and some contractors will absolutely benefit from cheap AC overnight charging and less expensive maintenance. Per Ford, expect a 40% drop in total cost of ownership versus internal combustion. Towing will quickly chip away at range. In our case, we lost 57% of range while towing a 7,000 lb. load. You can read more about our experience here.
Ford does offer the Ford Charge Station Pro which is included with an extended-range battery (installation is extra). It's rated to deliver 19 miles per charging hour. The Ford Charge Station Pro retails for $1,310. Using the Mobile Power Cord that came with the Lightning that we tested, we were able to get 16 miles per hour from the shop's 220-volt outlet.