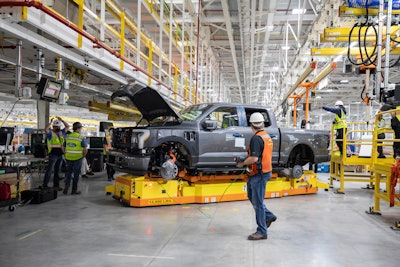 Ford
Ford announced a production increase for the F-150 Lightning at the Rouge Electric Vehicle Center this fall to reduce customer wait times.
The high demand of F-150 Lightning XLT has that truck getting the largest initial production increase with new retail orders. Delivery is estimated as early as September.
Ford also continues to accept retail customer orders for the Lariat and Platinum models.
"Customer interest for XLT has considerably outstripped supply since the F-150 Lightning launch and we've worked with our suppliers to help address that," said Marin Gjaja, chief customer officer, Ford Model e. "We heard loud and clear from our customers that they want their truck deliveries as close as possible to their orders. As we scale production, we are making this possible."
Orders can be made at a local Ford dealer or at ford.com. The F-150 Lightning XLT, with a starting MSRP of $64,474, delivers an EPA-estimated range of 240 miles. The available extended-range battery has an EPA-estimated range of 320 miles and 580 horsepower starting at $78,874.
The F-150 Lightning XLT with standard range battery and most configurations for extended range battery is eligible for $7,500 in potential federal tax credits.
When equipped with the extended range battery and Max Trailer Tow Package, F-150 Lightning offers a maximum towing capacity of 10,000 pounds. Pro Trailer Hitch Assist, an industry first, automatically controls steering, throttle and brake inputs to help make hitching trailers easier. Pro Trailer Hitch Assist is standard with the Tow Technology Package available on XLT.
The production increase for the F-150 Lightning is part of Ford's plan to scale electric vehicles and make them more accessible to customers. To help meet high demand Ford is aiming to triple F-150 Lightning production by the end of this year to an annual rate of approximately 150,000 units.
F-150 Lightning drivers can access the BlueOval Charge Network, one of North America's largest public charging network with over 84,000 chargers. Starting next year, F-150 Lightning drivers will also have access to more than 12,000 Tesla Superchargers, making it the largest integrated fast-charge network across the U.S. and Canada. Additionally, Ford dealers are adding roughly 1,800 public-facing fast-chargers and locations to the BlueOval Charge Network by early 2024.