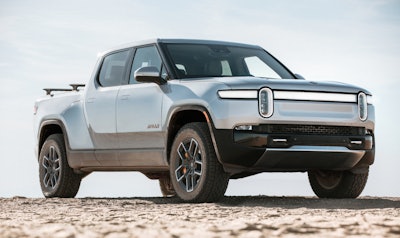 Rivian
Expect to pay higher vehicle registration fees for electric pickups thanks to all that extra battery weight.
The Rivian R1T, which recently rolled off the assembly line as the first mass-produced electric pickup, has an eye-popping gross vehicle weight rating of 8,532 lbs. which makes it a heavy-duty Class 2B truck according to EPA guidelines.
Vehicle registration fees based on weight rise fairly fast as GVWR grows. In Florida, a typical half-ton truck costs $32.50 to register while the heavy R1T costs $103. For a fleet that acquires 20 R1Ts, that's an extra $1,410 in registration fees versus a typical half-ton.
[Related: Rivian gets real about towing and it's not all that bad]
The reason for the extra cost? A truck with a curb weight exceeding 5,000 lbs. is assessed on its gross vehicle weight which, unlike curb weight, includes max payload and passengers.
The battery-heavy R1T, which will get even heavier when it's longer range model becomes available, has a curb weight of 5,886 pounds. The 2021 Ford F-150 SuperCrew has a curb weight that ranges between 4,465 and 5,014 lbs. depending on powertrain options, etc. and has a GVWR that varies between 6,010 to 7,150 lbs.
In addition to higher registration fees, EV owners in a growing number of states are being hit with annual fees since these states are losing fuel tax revenue to more and more zero-emission vehicles. Eighteen states are now charging extra annual fees for EVs ranging from $50 to $200 according to myev.com.