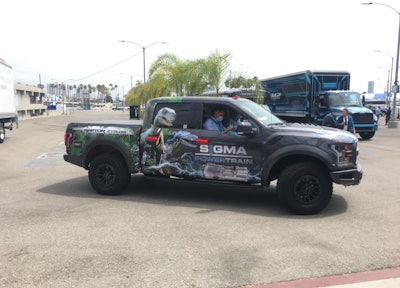 Sigma Powertrain
The road less traveled has been joined by an 800-hp all-electric Ford Raptor.
Sigma Powertrain in Livonia, Mich. chose the iconic half-ton super truck as their first proof-of-concept vehicle which is on display this week at the Advanced Clean Transportation Expo in Long Beach, Calif.
The Raptor EVolved uses Sigma's versatile EMAX Electric Transmission which can be configured with other motors, extension housings and output shafts to enable operation for Class 1 pickups and vans through Class 8 tractor-trailers.
For the Raptor EVolved, the truck's features and driveline were kept intact.
[Related: 775-hp Shelby F-150 Raptor tops Ram TRX]
"It's a really nice demonstrator for our tech. It's a semi-truck powertrain in an F-150. It's kind of impressive," John Kimes, Sigma CEO and president, said Tuesday at his company's booth at ACT Expo.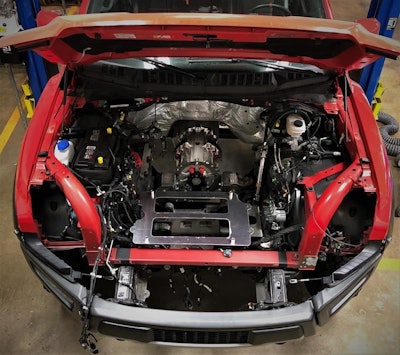 "The power density is so high that whole [EMAX] box is only 18 inches long for a semi-truck and it's small enough that it fits in the same spot that the 10-speed transmission sits in—with the motors by the way—in an F-150. That's the cool thing," Kimes continued.
Likening it to Lego-like modularity, Kimes said the motors and other components paired up with EMAX determine its application.
"We can absolutely put 60,000 Newton meters (44,254 lb.-ft. torque) to an axle with this powertrain in a semi-truck and we really had to turn down the torque and use smaller motors for the Raptor," Kimes said. "The Raptor is 800 horsepower. I mean, small is relative. It's a blast. People talk zero to 60 times. We have a pretty impressive time of five seconds. It's an 8,500-lb. truck. But I like the 70 to 100 time. It's instantaneous. It's amazing to drive."
Zero to 60 times for the conventional Ford Raptor vary. MotorTrend recorded a 6-second time for the 2020 model year while carbuzz.com notched a 5.5 second time in a 2021 model.
Sigma's also getting impressive results in a loaded 80,000-lb. tractor-trailer equipped with its EMAX gear box.
"Our zero to 60 time is 17 seconds," Kimes said. "It's going to be an amazing powertrain. That and mated with our three-speed. Nobody's going to touch that. And the way we do our transmissions, they don't have parasitic losses like a hydraulic box. We get rid of the hydraulics and use patented clutches."
In addition to the EMAX Electric Transmission, Sigma offers its plug-and-play MID-Series powertrain for Class 1 – 6 delivery vans, trucks and buses. The three-speed powertrain includes the motor, inverter, heat exchanger, water pump, powertrain controller and oil pump.
"It's not just transmissions. We do the entire powertrain," Kimes said. "We do the complete software package and we're about to come out with our own motors and inverters—all integrated 500 kilowatt induction machines up to a megawatt power rating."