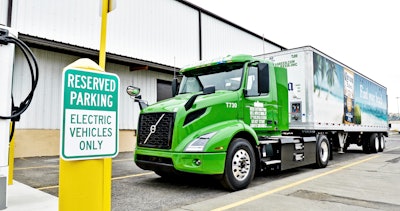 Volvo Trucks North America recently delivered its first Class 8, battery-electric regional hauling truck on the East Coast to its customer Manhattan Beer Distributors.
Four additional zero-emission Volvo VNR Electric trucks will join the New York City-based beer and beverage distributor which has over 400 delivery trucks servicing customers throughout New York City, Long Island and surrounding counties, the company said.
Manhattan Beer Distributors commemorated the delivery on August 12 with a press event co-hosted by the New York City Department of Transportation at its distribution warehouse in the Bronx.
[Related: DHE using solar-powered microgrid to power its facility and electric trucks]
The VNR Electrics come with a Volvo Gold Contract which paves the way for maintenance and service at local Volvo Trucks dealership Milea Truck Sales and Leasing.
"We take care of all the preventative maintenance, all the scheduled maintenance and take care of any repairs on the drivelines including the batteries," said Brett Pope, director of electric vehicles for Volvo Trucks North America. "That way Manhattan Beer will know what they spend on a cents per mile basis for the operation of that product."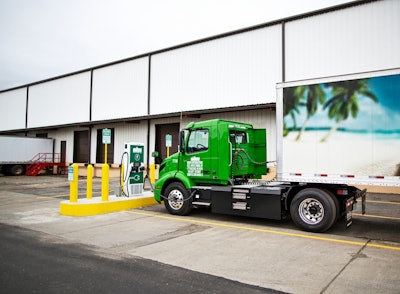 Manhattan Beer Distributors began building its low-emission fleet in the '90s. Today the fleet includes more than 160 Volvo VNR and VNL CNG Class 8 trucks, which will soon be joined by four more Volvo VNR Electrics in addition to the VNR Electric delivered today, according to the company.
Three Level 3 DC fast chargers installed at the distributor's Bronx facility will recharge the batteries up to 80% in 70 minutes. The trucks will be driven under a hundred miles daily with frequent stops which given the truck's regenerative braking capability makes the routes ideal for electric powertrain use.
Manhattan Beer Distributors' battery-electric trucks were the first Volvo VNR Electric models to enter full serial production at Volvo Trucks' New River Valley manufacturing plant in Dublin, Virginia, which assembles all Volvo trucks sold in North America.
The trucks were purchased through the New York City Clean Trucks Program, an initiative created last year and funded in part by the Volkswagen settlement which is intended to reduce air pollution in vulnerable communities as well as reduce greenhouse gas emissions.
"As one of the largest beverage distributors in the U.S., Manhattan Beer Distributors recognizes the broad sustainability impact that we can make by eliminating our fleet's tailpipe emissions," said Simon Bergson, founder, president & CEO of Manhattan Beer Distributors.
"Volvo Trucks has long supported our sustainability goals and demonstrated that their low- and zero-emission truck lineup provides the safety, performance, and reliability we've come to expect," Bergson continued. "We look forward to gaining hands-on experience with our first five VNR Electrics and working with Volvo Trucks and local Volvo Trucks dealership Milea Truck Sales and Leasing to continue expanding our zero-emission fleet."
Milea, which serves New York City and the tri-state area, is Volvo Trucks' first East Coast Volvo EV Certified Dealer and offers consulting for fleets in the region who are considering investing in the Volvo VNR Electric. The dealership installed heavy-duty-capable charging infrastructure onsite, and its service team has been fully trained and equipped to safely perform battery-electric truck maintenance and repairs.
With VNR Electrics now on both the East and West Coasts, it's anyone's guess, outside of Volvo, where their next VNR electric is headed.
"We've got a couple of things in the pipeline," Pope said. "We've got other announcements coming throughout the year."