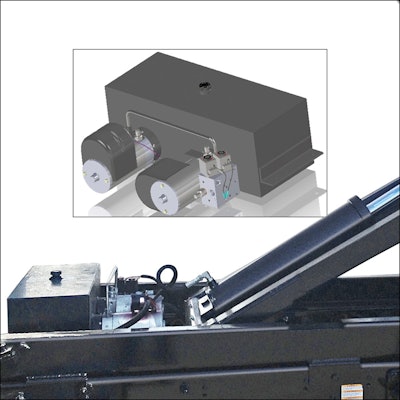 Truck Bodies and Equipment International (TBEI) introduced its new Hy-Flo Twin Electric Power System for select medium-duty Crystee, DuraClass and Rugby Manufacturing brand hoists.
Compared to a standard electric double-acting hoist power unit, the Hy-Flo system provides three times greater capacity and up to six times faster hoist cycle times. The system also provides 1.2 times the capacity of a PTO at idle.
"Working with our distributor and vendor partners, TBEI developed the exclusive Hy-Flo unit to meet the market need for a faster, more cost efficient hoist," says Doug Hauck, TBEI vice president of distribution sales.
"The Hy-Flo unit is a great addition to our medium duty product line-up to give our distributors and their customers equipment that is quicker to install and easier for multiple users to operate."
The Hy-Flo twin electric power system eliminates the need for direct-mount hydraulics and a PTO, providing customers with significant cost savings, including up to $500 on the chassis and up to $1,500 on installation costs.
Installation time is also reduced by as much as two-thirds, so the vehicle can get on the job faster. The HY-Flo twin electric power system is also cleaner, quieter and more fuel efficient than a PTO powered hoist.
Instructions provided on the push-button control located in the cab are intended to make operation simple. Power is provided by twin batteries.