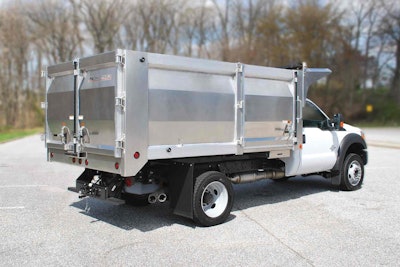 Crysteel Manufacturing has launched its aluminum landscape line, which the Minnesota-based company says offers up to 13 percent more payload capacity than comparable steel bodies.
"Our new aluminum landscape line is a great choice for contractors in the landscaping, refuse/waste and recycling industries who need a reliable body to take on the toughest jobs," says Joe Paulsen, general manager of Crysteel Manufacturing.
"Crysteel aluminum landscape bodies are lightweight and corrosion resistant, so they haul more, use less fuel, last longer and cost less to maintain than other landscape bodies. And they look good, too."
The new aluminum landscape bodies are available in two landscape tipper models. The 9-foot 4-inch long body is roughly 1,000 pounds lighter than its steel counterpart, while weight savings for the 12-foot model is about 1,100 pounds.
Each aluminum body comes standard with a two-piece barn door in the rear for easy loading and unloading and a 50-inch side door for accessibility. Options include a full cab shield, bolt-on pull-out ladder kit, pull tarp and plastic fenders.
Designed to save customers time and money, Crysteel's Lo-Boy hoist is mounted to every aluminum landscape body at the factory. The standard Lo-Boy hoist includes a full-length sub-frame for added strength and a factory-installed body prop for added safety.
All Crysteel bodies and hoists are made in the U.S. and backed by an industry-leading five-year warranty. Crysteel is part of the Truck Bodies and Equipment International, Inc. (TBEI) family of companies. TBEI brands include Crysteel, Rugby, DuraClass, J-Craft and Ox Bodies.