Custom heavy-duty bumpers a big hit at the 2014 SEMA Show in Las Vegas
For the past four decades manufacturers of automotive aftermarket accessories and performance equipment have come together once a year to show off their newest products for the coming year.
The trade-only event is known today as the SEMA Show.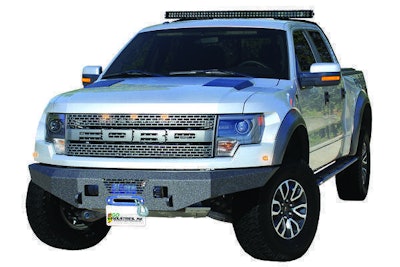 The Specialty Equipment Market Association (SEMA) show, held in Las Vegas every November, is an automotive enthusiast's' Nirvana – and it gives those in attendance insight to the coming year's customizing trends, parts and accessories that improve the looks and performance of cars and light duty trucks.
We walked through SEMA 2014's New Products' section and stopped at hundreds of booths in the "pickup truck" floor to check out what's new and exciting for 2015. We found plenty.
The gallery above is a sample of heavy-duty front/rear custom bumpers that are – or will be soon- available for 2015 Ford, Ram, GM, Toyota and Nissan trucks: