Reading Truck Body says it has re-engineered its Landscaper SL ― a specialized truck body built for the landscape, nursery and lawn care industry.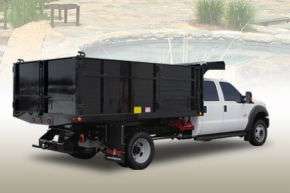 "Early spring is one of the most important buying seasons for landscape contractors, nursery owners and lawn care professionals," says Craig Bonham, Vice President of Sales for Reading Truck Body. "And after a winter that was particularly brutal across the majority of the country, their customers are going to be ready for spring cleanup to begin."
Bonham says the Landscaper SL body is engineered for transporting bulk material, but the design offers ample storage space for pallets of sod, bagged material, plant stock, B & B trees and tools. 
Landscaper SL features a galvannealed steel body, a fully-welded bulkhead, doors and sides with reinforced posts welded to the understructure. Each design element―from the universal understructure for quick and easy mounting to rear full swing-out doors for clear access to the bed area―is meant to offer drivers the best overall experience when on the job. The body is initially available in 10′ or 12′ configurations.
Additional standard features include:
50o angle, 8-13 ton capacity Champion hoist
Curbside swing-away door
Full cab shield with lashing rings
Steel cam lock assemblies
Side tarp tie-down bars with front and rear tie-down cleats positioned for easy door opening
Incandescent lighting
Clearance lights and automotive wire harness
The company offers a number of optional equipment, including roll-up tarp system, underbody cargo boxes, receiver hitch, access ladders and/or steps that easily stow under-body when not in use.