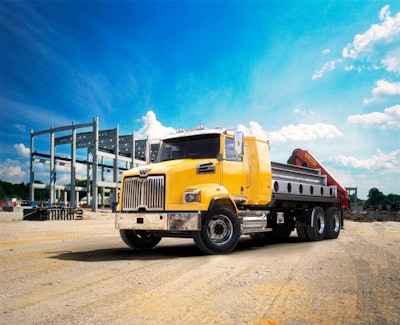 Western Star, at World of Concrete in Las Vegas Tuesday, announced several new updates for its 4700 model, including an optional 12-liter Cummins.
This ultra-lightweight Cummins X12 engine – weighing 2,050 pounds, which is up to 600 lbs. lighter than other medium-bore engines in the 10 to 13-liter category – features front- and rear-engine PTO offerings enabling more upfit options.
The Cummins X12 engine, delivering up to 1700 lb.-ft. of torque and 500 horsepower, has a low-friction design suited for higher MPG and is compatible with a broad range of fully automatic, automated manual and manual transmissions.
Another new option is the Detroit DT12 automated manual transmission, which can now be spec'd for Detroit-powered 4700s. With features such as creep mode, hill start aid and a precise pneumatic shift and clutch control, the DT12 gives a smoother ride and reduces driver fatigue.
The enhanced 4700 also has additional upfit-friendly improvements, including updates to the electrical system – such as the addition of a third Power Distribution Module – and improved interface connections on the back floor of the cab, as well as four new options for trailer connections.
"The 4700 is a workhorse, and our customers want it to get on the job as fast as possible. That's why we made the 4700 easier for body builders to upfit," said Parlier.
Refreshed interior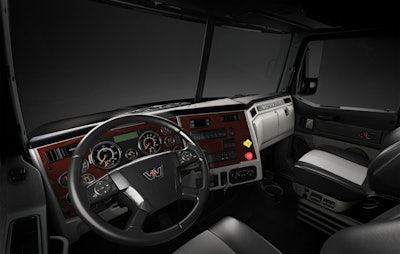 The inside of the 4700 has been refreshed to help drivers stay focused on the road and more productive throughout the day.
Samantha Parlier, vice president of marketing and product strategy for Western Star, says the company worked directly with customers to create "an environment that drivers can customize to best meet the needs of their specific job and lifestyle. "From dash-mounted USB ports for personal mobile devices, to a variety of mounting and pre-wire options for telematics systems, the 4700 is easier than ever to operate," she says.
Larger gauges on the instrument panel provide improved visibility, and a new LCD dash display delivers more information to the driver in an intuitive format. Four customizable LED indicators are available for body builders to keep the operator informed of various truck functions, data and alerts.
The truck's multi-function steering wheel offers the driver easy-to-reach access to cruise control, radio functions, phone controls and dash display menus.
For the first time, the 4700 can now be spec'd with a 40-inch low or ultra-low roof StarLight sleeper. This additional space can be used for extra storage or fitted with a comfortable mattress.
New safety features
Wabco OnGuard, now available on the 470, uses a bumper-mounted radar unit to track vehicles and objects in the truck's path, and then automatically applies the brake if the driver doesn't slow the truck in time. Bendix lane departure camera tracks the truck's lane position and provides audible warnings to the driver.