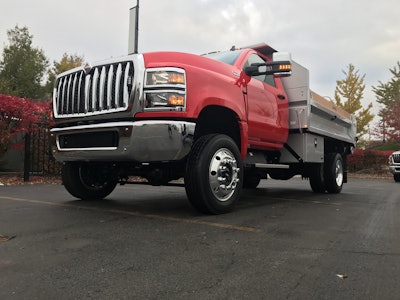 Allison announced today that its 1000 Series and 2000 Series are the exclusive fully automatic transmissions for the newly introduced International CV Series Class 4/5 vocational trucks.
The 6-speed Allison automatics are paired with the proven International 6.6-liter turbocharged diesel engine. Additionally, the Allison-equipped International CV Series trucks are rated at up to 22,900 lbs. GVWR and capable of 37,500 lbs. GCWR.
Among standard and available Allison transmission features in the International CV Series trucks:
Power Take-Off (PTO) option enables users to run power auxiliary equipment such as dump truck bodies, tow truck winches, hydraulic tools and bucket lifts
Close-ratio 6-speeds, with double overdrive, to climb challenging terrain and maximize fuel economy
Ideal integration with the International 6.6-liter diesel V8. Under a collaborative engineering effort, the Allison 1000/2000 Series transmissions have been optimized to take advantage of International's 350 hp and 700 ft-lb of torque
Available on rugged-duty, motorhome and emergency vehicle transmission applications the Allison automatics allow rescue vehicles to get up to speed faster and ease the integration of body and pumping equipment
Allison's patented Continuous Power Technology is designed to deliver smooth, seamless, full-power shifts, as well as superior acceleration in the CV Series
Allison FuelSense 2.0 electronic controls for increased fuel economy and Dynamic Shift Sensing could be available for future releases
"The exceptionally durable and high-performing Allison 1000/2000 Series transmissions are ideally suited to partner with the International CV Series' commercial-grade power, reliability and practicality," said Rohan Barua, vice president, North America OEM sales at Allison Transmission.
The release of the Allison 1000/2000 transmission in the International CV Series Class 4/5 truck can accommodate a wide range of specialized body types including construction, urban delivery, landscaping, emergency vehicle and many other commercial applications.