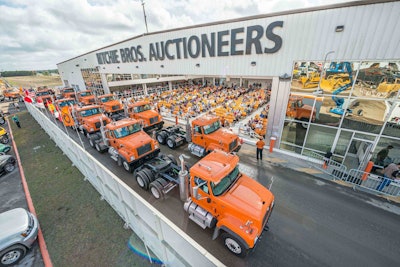 Note: This is the third of a three-part series on the used truck auction market. Part 1, "More fleets turning to auction market in search of equipment," can be found here. Part 2, "Buying and selling equipment at auction doesn't have to be intimidating," can be found here.
This year has been a good one for sellers of used trucks and the early parts of 2019 are forecast to continue that trend. However, J.D. Power Senior Analyst and Product Manager of Commercial Vehicles Valuation Services Chris Visser sees a shift back to normal conditions in the second half of this year.
"That's when we see the economic acceleration rolling back a little bit, and also used truck volume hitting more of a critical mass to meet demand. With [new truck] orders above 40,000 [per month], we still have quite a few months where deliveries should be elevated," he says. "A lot of these trucks are for dealer stock and a lot of them won't even be built until late 2019 and even 2020 in some cases. The orders we see now are more at risk of being canceled as 2019 goes on because they are so monumental right now."
Visser says one of the reasons there was so much freight to move in 2017 and 2018 is that manufacturing companies were taking advantage of tax incentives to build up inventories, resulting in some pull-ahead freight in 2018. As that freight environment softens this year, it will push used truck prices down and normalize deprecation.
"The second half of 2019, we do see a return to depreciation both at auction and retail dealers back to a normal 1.5 – 2 percent per month."
Taylor and Martin Auctioneers National Director of Sales Steve Oliver says the auction value of equipment moved through Taylor and Martin last year was about 10 percent higher year-over-year.
"There is less equipment available because more of it is in use but the values are higher," he says. "There's definitely a supply and demand situation in play. The historically high level of new truck orders, once that catches up, there may be more of a downslope where some of the fleet truck values might soften but we don't expect that to happen until at the very least halfway through 2019 and maybe [later]. We expect values to remain strong."
Ritchie Bros. Director of Strategic Accounts for Transportation Mike McMahon says he expects strong demand with limited supplies of low-mile, late model trucks at least through the first half of 2019, with potentially some "softening" to follow.