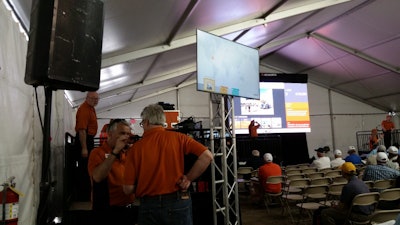 Note: This is the first in a three-part series on the used truck auction market. Parts 2 and 3 will publish in the coming days.
With record new truck orders filling build slots well into 2019, fleets are finding different ways to increase truck count and take advantage of strong freight rates.
Ritchie Bros. Director of Strategic Accounts for Transportation Mike McMahon says the truck order backlog has forced some fleet to hold on to trucks longer since newer trucks aren't arriving as expected, and the auction market – historically the buying domain of owner-operators – saw an uptick in the number of fleet buyers due to the immediate availability of tractors.
Steve Oliver, Taylor and Martin Auctioneers National Director of Sales, says owner-operators make up about 70 percent of Taylor and Martin's purchasing customer base because of the ability to inspect and potentially leave with a piece of equipment that day. With more late model equipment coming available, he says an increasing number of fleets have entered the auction segment in search of trucks for similar reasons.
"Because they can put them to work right now," he says.
The ability to quickly put trucks on the highway isn't the only draw of the auction segment. In some cases, McMahon says the auction channel offers greater flexibility in purchasing and looking at equipment, thanks to online and in-person outlets.
"Some customers may only be looking in a certain geographical area but may be able to find something through our online platform that they might never have considered beforehand," he says. "With our frequency of sales and how we transact, we can pretty much sell everything almost every day. We offer our buyers and sellers the opportunity to buy and sell all the time."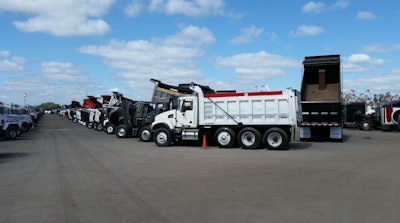 Additionally, transaction prices on the used truck auction channel are routinely less than those found on the retail side.
"There's definitely a hope for gain," Oliver says. "If you're talking about comparing buying equipment at an auction versus buying from a dealer – a dealer, of course, is going to charge a retail price and at an auction, especially an open to the public no-reserve auction, you will have an opportunity to buy something for less money than you might at the retail level."
While it may be easier to find a good deal on trucks at auction, 2018 was not the time to buy cheap.
J.D. Power Senior Analyst and Product Manager of Commercial Vehicles Valuation Services Chris Visser says auction volumes were down through much of the year, the result of fleets holding on to more trucks in order to capture and move more freight. The electronic log mandate, he adds, played a role in decreased used truck volumes early in the year because "it reduced efficiency and required more trucks to move the same amount of freight."
With volume down, Visser says pricing was stable.
"Essentially no depreciation for four to six year old trucks in the auction market in 2018," Visser says. "Obviously that's an unusual situation. We expect trucks to lose one-and-a-half to two percent of their value per month and they haven't lost any in 2018 for the most part."
That kind of pricing was attractive to fleets who otherwise wouldn't have been inclined to dispose of units, Oliver says.
"I can't think of a better time to sell fleet-type tractors," he says. "There's really an opportunity for anybody with fleet tractors to maximize the value right now."
"Pricing has been strong [in 2018]," McMahon adds. "On a supply side it's been a challenge to get equipment at times from the customer base because of how strong sales have been."
What can you find at auction?
Comparable equipment can be found on the retail and auction markets but Visser says auctions have traditionally been seen as a wholesale channel.
"There are also some volume buyers – some fleets who buy trucks at auction and do their own reconditioning," he says, adding some truck dealers also use the auction segment to buy trucks to fill their lots.
McMahon says more than half of Ritchie Bros. buyers are end users, "the people who will be putting this equipment to work and not necessarily remarketing."
"The meat" of auction market, Visser says, is mostly 4- to 6-year-old trucks, but it's not impossible to find newer and older units at any given time. McMahon says the current challenge is finding late-model, lower mileage equipment.
"That equipment on the used truck side is in high demand and it's hard to get," he says, "and it's bringing a premium in the marketplace."
Oliver says you can find trucks at auction with a remaining balance of OEM warranty as historically high new truck orders, combined with strong freight rates, have brought more late model trucks to the used market.
"[In 2018] there's been more of that simply because late model trucks have been more difficult to find," he says. "People that have any reason to re-market a late model truck with any remaining warranty have definitely been participating in the auction channel."
This article first appeared in HWT's partner publication, Commercial Carrier Journal.