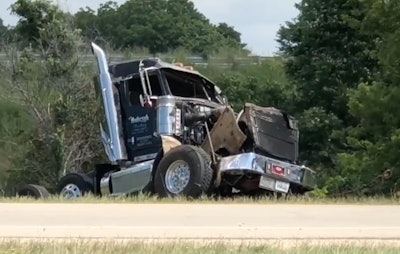 A witness to a deadly dump truck accident in Wisconsin says she tried in vain to warn police of the driver's erratic behavior before he crashed and rolled his truck several times.
Todd Klauser, 58, died at the scene moments after taking a Highway 12 offramp near Highway 50 in Lake Geneva last Thursday. The truck left the offramp and rolled several times before coming to rest in a deep ditch (video posted below).
"He flipped six times in the air and I was on the phone with 911 the whole time," Amanda Wingert, a witness, told cbs58.com.
Wingert posted on Lake Geneva Police Department's Facebook page that she had called 911 twice about Klauser's driving. Police, however, pulled over the wrong truck, Wingert said.
"I gave the license plate number, the truck number, a mile marker, what I was approaching, descriptions, exit numbers. I gave every detail that I could so that I could help him and prevent anyone else from getting hurt," said Wingert whose daughter was traveling with her at the time.
Police acknowledged receiving a call about a reckless driver but said they did not have jurisdiction until Klauser exited Highway 12 and crashed, according to cbs58.com. It's not clear which law enforcement agency pulled over the other dump truck.
Klauser drove for Sobczyk Trucking based out of Big Bend, Wisc. Though she didn't know him, Wingert said she feels terrible about Klauser's death.
"I ran to him while on the phone with 911 losing my mind totally," Wingert posted on Facebook on the day of the accident. "This is just so very devastating. I hope one day we all can look at this and learn from this. My adrenaline is still running. Please say a prayer for everyone."