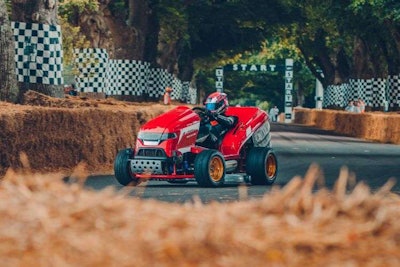 Remember the old saying, "Your butt's the grass and I'm the lawnmower?" Well the folks at Honda are taking that message to heart as they strive to lay claim to having the world's fastest lawnmower–again.
Mean Mower first grabbed attention in 2014 when it topped out at a record-breaking 116.575 mph. Well, that record was broken, and since Honda's not one to sit around and watch the grass grow, they went back to the skunk works and came up with a meaner and faster mower that's expected to top out at 150mph. A 999cc four-cylinder engine taken from a Honda Fireblade SP motorcycle provides 190 horsepower.
The Fireblade's six-speed transmission gets in on the act along with the motorcycle's clutch and ECU. Steering wheel-mounted paddle shifters make us want to get out and drive this thing even more. At first, we didn't spot a drink holder and any good riding mower worth its weight has got to have one. Then after pausing the video below and taking a closer look at the right side of the mower, there looks to be a cup holder, but no drink. Hmmm…there's a perfect and laugh-out-loud product placement opportunity for a Red Bull, Yoo-hoo, Mountain Dew, Grapico…something. All kidding aside, this mower flies and is expected to hit 0 to 60 in under three seconds.
Video below shows Mean Mower V2, complete with functional mowing deck and bag, flying around the track at Goodwood this month in England. While watching you'll notice that the mower bounces around quite a bit. That's because one of the challenges the engineers faced at Honda's UK division was to design the T45 steel chassis without suspension. Hey–it's still a lawn mower, remember? The carbon fiber blades tucked under the mowing deck are powered by batteries.
The mower gets some nice bling and street cred through Goldspeed ten-inch ATV wheels anodized in gold and wrapped by Hoosier racing tires. Seriously, though, my kids would fight to mow the lawn in this.