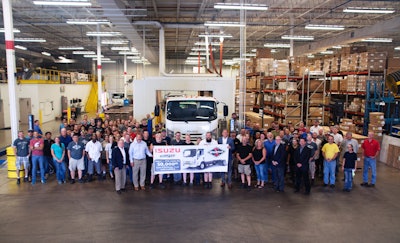 Isuzu Commercial Truck of America announced that their 50,000th gasoline-powered Isuzu N-Series truck rolled off the assembly line today in Charlotte, Michigan.
Isuzu, the top selling brand of low cab forward trucks in the U.S., was the first OEM to offer gasoline-powered low cab forward trucks in North America. Assembly of the truck began at Spartan Motors in April 2011.
"We anticipated the demand for gasoline-engine low-cab-forward trucks over seven years ago, and the assembly of our 50,000th truck proves that our instincts were correct," said Shaun Skinner, president of Isuzu Commercial Truck of America. "New competitors have entered the marketplace, but our N-Series gasoline truck is still the premier vehicle in its class. That's a testament to the performance and reliability Isuzu is famous for and the tremendous build quality of the finished product, thanks to Spartan."
Isuzu N-Series gas-powered trucks feature a Vortec 6.0-liter small-block V8 engine that produces 297 horsepower at 4,300 rpm and generates 372 lbs.-ft. of torque at 4,000 rpm, the most torque of any gas-powered LCF truck in North America. The powerplant is mated to a six-speed automatic transmission with double overdrive and lock-up torque converter for enhanced fuel economy and performance. An optional version of the engine is capable of being converted to run on compressed natural gas (CNG) or liquefied petroleum gas (LPG, or propane).
A full range of gasoline-powered models is available:
NPR (12,000-lb. GVWR)

Single Cab in wheelbases of 109, 132.5, 150 and 176 inches
Crew Cab in wheelbases of 150 and 176 inches
NPR-HD (14,500-lb. GVWR)

Single Cab in wheelbases on 109, 132.5, 150 and 176 inches
Crew Cab in wheelbases of 150 and 176 inches
"We are proud to offer our gas-powered N-Series truck in a wide range of configurations to meet our customers' needs," Skinner said. "And together with our dealerships and Spartan Motors, we're looking forward to the next 50,000."