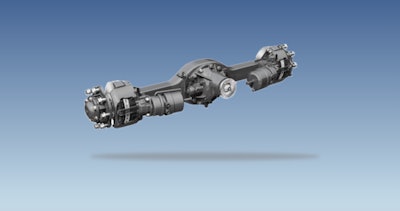 Dana announced today that its Spicer single drive axles will be standard equipment on International MV Series medium-duty trucks and IC Bus CE Series and RE Series models.
The standard-product position is effective immediately and includes Dana Spicer S110, S130, S140, S170, and S190 models, as well as the 060 Series.
"Our medium-duty trucks and buses are known for their workhorse qualities, delivering consistent performance and maximum productivity," said David McKean, Navistar's chief procurement officer. "Spicer axles were chosen to support these applications due to their steadfast reliability and Dana's dedication to deliver technologies that drive greater overall efficiency."
Spicer single drive axles offer numerous advanced design features that reduce installation and life cycle costs, including lighter weight over competitive models; high-capacity gearing and bearing system for durability and reliability with higher horsepower/torque engines; GenTech extra-quiet gearing for diminished noise, vibration, and harshness (NVH); and a wide ratio range to cover a variety of straight truck applications.
"We continue to collaborate with Navistar to provide innovative solutions to meet rigorous efficiency benchmarks and improve total cost of ownership," said Mark Wallace, executive vice president of Dana and president of Dana Commercial Vehicle Driveline Technologies. "Our Spicer single axles are designed to optimize performance and increase profitability. We are confident they will deliver for our joint end-user customers and are honored that Navistar has chosen Dana axles for this exclusive position."
Dana also holds standard-product position across all International Truck and IC Bus models with its full line of Spicer driveshafts.