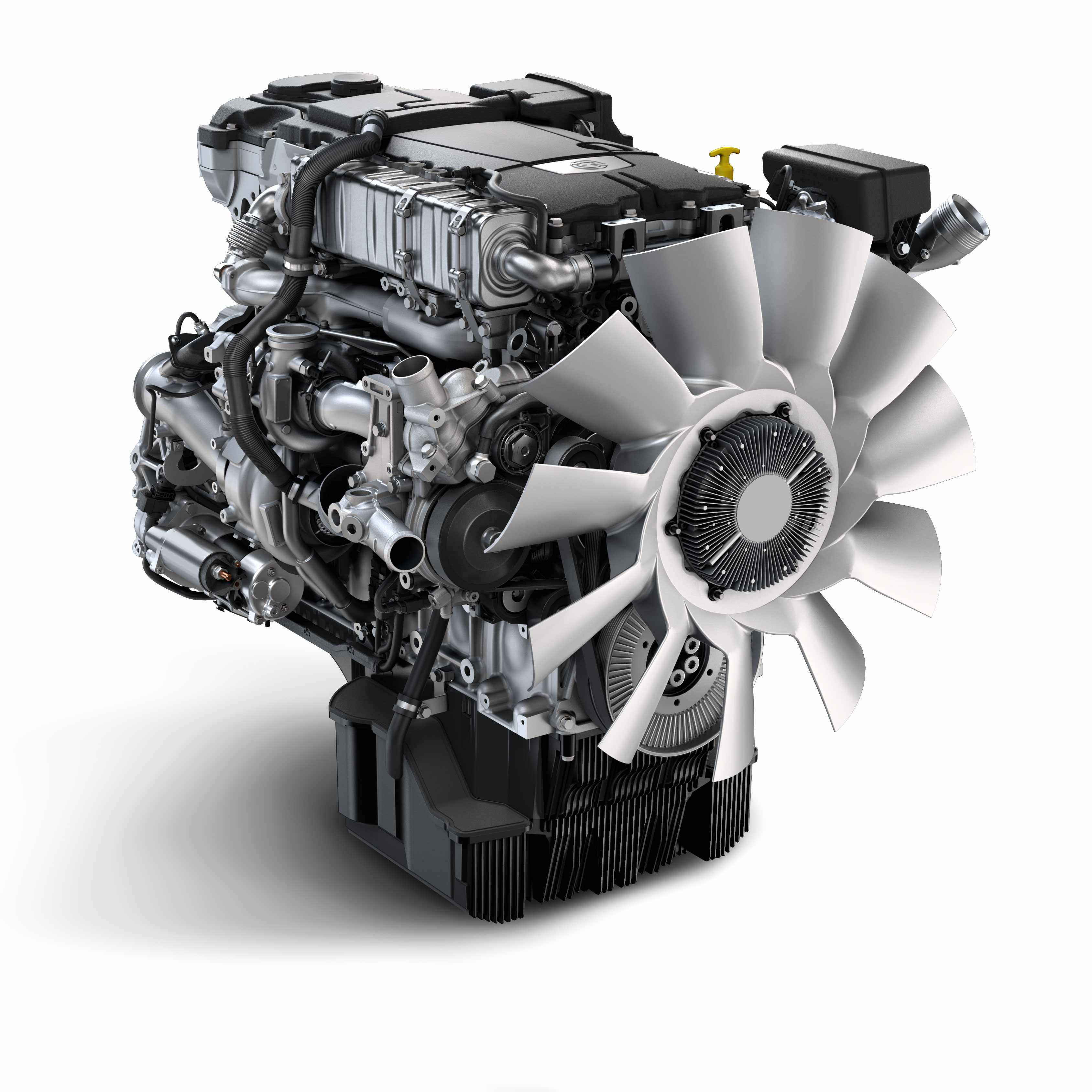 Less than a year after the Detroit DD8 engine introduction, production of DD8-powered vehicles began this week at Daimler Truck North America's Freightliner plant in Mount Holly, N.C. Vocational and medium-duty truck customers can now spec the DD8 on Freightliner M2 106, 108SD and 114SD truck models.
With engine ratings from 260 to 375 hp and 660 to 1050 lb-ft torque range in either single- or dual-stage configurations, the 7.7-liter DD8 fills the gap in the Detroit engine portfolio between the DD5 (210-230 hp, 575-660 lb-ft torque) and the DD13 (350-505 hp, 1250-1850 lb-ft torque). The new engine will serve as an alternative to the Cummins B6.7 (200-325 hp, 520-750 lb-ft torque) and L9 (260-350 hp, 720-1150 lb-ft torque) engines, which Freightliner will continue to offer in its vocational product range.
"Our customers and dealers have been asking for a medium-duty engine product from us for years," said Kelly Gedert, director of product marketing, Freightliner Trucks and Detroit Components. "We always have had a third-party solution, but we want to provide our customers with choice. We now are the only ones in the industry to offer proprietary and third-party solutions."
Detroit did not announce sales projections for the medium-duty DD8, but Gedert said customer take rate on its DD5 sibling in its first year is roughly 33 percent when there is technical coverage for their application. She added Detroit will supply a DD5 with PTO option later this year.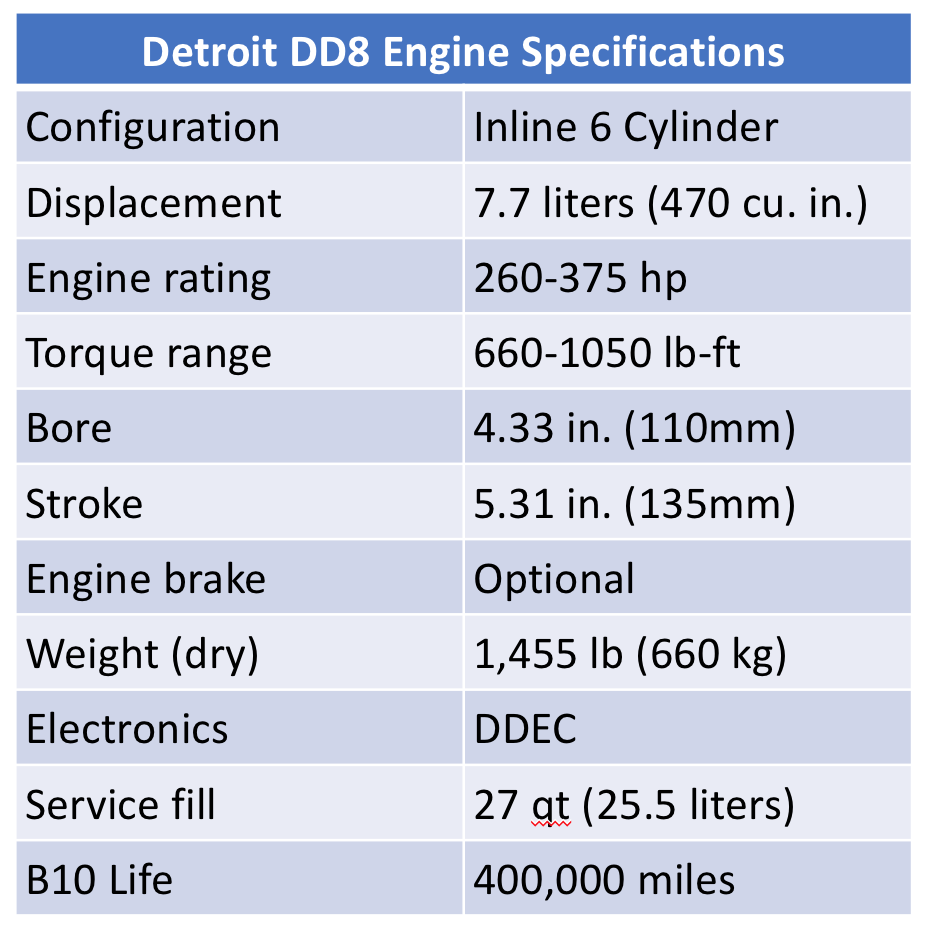 DD8 engine production began last fall and is manufactured alongside other engines and powertrain components at Detroit's engine plant in Redford, Mich., The new engine is Daimler's first 6-cylinder engine product for the NAFTA region since the Mercedes-Benz 926 was phased out in 2010. DTNA invested $375 million over four years to tailor the DD8 to perform for the medium-duty and vocational demands of North American customers.
"The DD8 is built for performance with features that meet the needs of those specialized segments," said Brian Daniels, manager, Detroit Powertrain and Component Product Marketing, adding the Detroit Connect Virtual Technician remote diagnostics system is included for three years/250,000 miles on both the DD8 and DD5.
With the launch of the DD8, Detroit says is the first engine maker in the North American commercial vehicle industry to offer variable exhaust cam phasing, an alternative for manual regeneration that captures increased exhaust temperatures at low engine speeds and pushes the heat downstream to the aftertreatment system.
"The hottest moment in the engine is point of combustion at the top of the cylinder," said Steve Collins, technical sales representative. "[Variable cam phasing] opens the exhaust valve sooner, while the piston is going down, to take advantage of peak high temperatures."
The DD8 has three aftertreatment system (ATS) packages available, depending on engine rating, truck model and upfit configuration. An understep ATS system with horizontal and vertical outlets is available for the M2 106, 108SD and 114DS, while a horizontal in-line ATS system is exclusive to the M2 106 with either single-stage or dual-stage DD8. A raised understep ATS configuration with vertical outlet is also available on 108SD and 114SD models equipped with a dual-stage DD8.
Daniels said DD8 maintenance intervals are as much as three times longer than competitive engines in the market, depending on the application. Oil drain interval recommendations include 18 months/55,000 miles for short-haul applications, 12 months/60,000 miles for long-haul applications and 12 months/45,000 miles for severe-service applications.
The DD8 has a base three-year/250,000-mile engine and ATS warranty and three extended warranty options ranging from 48 to 84 months and 150,000 to 300,000 miles.
Note: This article was written by Jeff Crissey, editor of Commercial Carrier Journal, a partner publication of Hard Working Trucks.