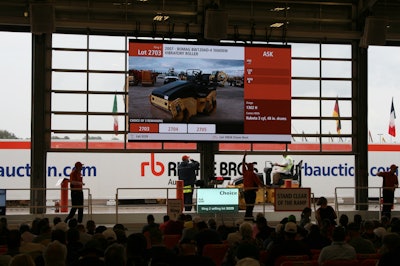 With three weeks to go, Ritchie Bros. is reporting that its Orlando auction is already gearing up to offer one of the best selections of equipment the company has ever assembled.
As of this morning, Ritchie Bros. has amassed over 10,400 items for its premier auction. If they reach 11,000 items, it will be their largest auction ever. (Pictures from last year's auction are posted below.)
"We already have equipment from more than 800 owners from across the United States, as well as Canada, Mexico, Central and South America and Europe—this is a global event," said Jeff Jeter, Ritchie Bros.' president of U.S. sales. "By adding a sixth day to this year's event we are able to accommodate more consignors and equipment. We expect to add additional equipment every day leading up to the auction to help make this sale massive!"
More than 10,400 equipment items and trucks are already listed to sell in the six-day unreserved auction—approximately 39 percent more items than this time last year. As always, every item will be sold without minimum bids or reserve prices.
General equipment highlights include over 620 excavators, 475 compactors, over 400 skid steers, 325+ loaders, 235+ dozers, 135+ articulated dump trucks, 125 cranes, 355+ aerial work platforms, 370 truck tractors, 400+ trailers and more.
Preliminary Auction Schedule (check rbauction.com/Orlando2018 for the most up-to-date info)
Day 1: Monday, Feb. 19 – skid steers, forklifts, loader backhoes, boom lifts, scissor lifts
Day 2: Tuesday, Feb. 20 – agriculture tractors, motor graders, wheel loaders, rock trucks, articulated dump trucks, trenchers, direction drills, pull scrapers, log loaders, feller bunchers, mulchers
Day 3: Wednesday, Feb. 21 – vibratory rollers, tandem rollers, pneumatic rollers, pulverizers, pipelayers, crawler tractors, crawler loaders, cranes, crushers, screen plants, conveyors, pavers, asphalt distributor trucks, road wideners, barges, railroad equipment
Day 4: Thursday, Feb. 22 – vacuum trucks, water trucks, fuel & lube trucks, mechanics trucks, rolloff trucks, mixer trucks, concrete pump trucks, dump trucks, hydraulic excavators, mobile excavators, mid-size excavators, small excavators
Day 5: Friday, Feb. 23 – buses, motor homes, emergency vehicles, boom trucks, cab & chassis, truck tractors, lowboys, beam trailers, hiboys, end dump trailers, pneumatic bulk trailers, asphalt trailers, vacuum trailers, frac tanks, reefer trailers, van trailers, boats, airplanes
Day 6: Saturday, Feb. 24 – bed trucks, tow trucks, bucket trucks, paint striper trucks, flatbed trucks, van trucks, automobiles, pickup trucks, air compressors, light towers, welders, gensets
Bids can be made in the Orlando auction in person, online in real time at rbauction.com or via the mobile app, and by proxy. Detailed equipment information is available at rbauction.com/Orlando2018—items being sold off-site also have inspection reports and are backed by IronClad Assurance.