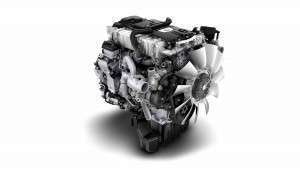 Daimler Truck North America (DTNA) unveiled its newest medium-duty engine, the DD5, this week at the NTEA Work Truck Show in Indianapolis.
The Detroit DD5, which will be available for order later this year in Freightliner Class 5/6 M2106 trucks, is the first of two new medium-duty engines, with the Detroit DD8 planned to follow in 2018.
DTNA says the DD5 will initially offer two power ratings, a 210HP/575 ft.-lb. torque and a 230HP/660 ft.-lb. torque, with the plans for additional ratings once the production shifts to the Redford facility in 2018. Kary Schaefer, general manager marketing and strategy at DTNA, says initial production of the medium-duty line will take place in Manheim, Germany before shifting to U.S. in 2018. More extensive availability throughout DTNA's product portfolio will begin when production shifts to the Redford, Mich., facility in 2018, Schaefer adds.
In addition, Detroit also announced the engines will have a 45,000 mile maintenance interval and the engines will be equipped with the Detroit Connect Virtual Technician remote diagnostics service. The DD5, along with all other Detroit engines, will meet the GHG17 standards early.