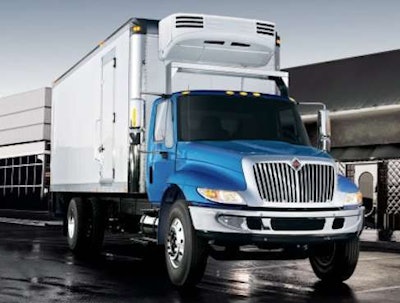 International announced March 2 it now offers a fourth engine option for its DuraStar and WorkStar lineup of vocational trucks — the 9-liter Cummins ISL9. The engine is now available for order in both trucks, joining the Cummins ISB6.7 and Navistar's proprietary N9 and N10 as the engine choices for the two work truck models.
The Cummins ISL9 is rated up to 380 horsepower and 1250 lb.-ft. of torque and features flexible horsepower and torque ratings for medium-duty and vocational applications, International says.
The announcement of the ISL9 availability came at the NTEA Work Truck Show in Indianapolis, where International also announced the availability of the Bendix Wingman Fusion crash avoidance system for DuraStar models.
The Wingman system bundles several advanced safety systems, such as active braking, stability control and predictive cruise, into one unit. International said it will begin taking orders for Wingman-equipped DuraStars sometime this month, with production scheduled to begin in June.