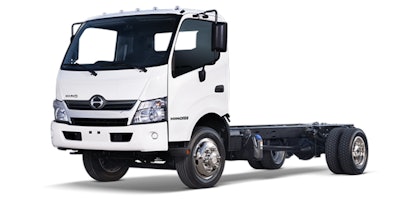 Hino Trucks, its local dealers and city officials gathered in Ontario, California to celebrate the grand opening of Hino's new California Parts Distribution Center (PDC) and Training Center.
The addition of this combined facility to Hino's U.S. based operations is a part of a growing nationwide foot print for Hino Trucks, which enjoyed record sales last year.
"Our year-over-year parts sales growth continues to eclipse the market. These kinds of numbers have meant that we have had to grow our infrastructure significantly as well," says John Donato, director of parts and sales for Hino Trucks.
"This distribution expansion reaffirms our commitment to providing better service to our dealers and customers."
Hino, a Toyota Group Company, has expanded its field organization into three regions, and expanded its dealer network to over 220 locations nationwide.
Hino opened its new PDC in California, its second U.S. parts location, to improve the effectiveness of its dealer network by enlarging its parts availability and distribution process.
The training facility was designed as an extension of Hino's National Training Center in Novi, Michigan to support a growing dealer network.
"We are so proud of opening this location that represents a milestone for Hino as we expand our focus and efforts to support our customers' needs regionally," says George Daniels, senior vice-president of sales and customer support for Hino Trucks.
"Not only will the west coast benefit, but the entire country will benefit from increased capacity and scheduling flexibility."
Hino Trucks assembles, sells, and services environmentally friendly Class 4-7 conventional and cab-over commercial trucks.