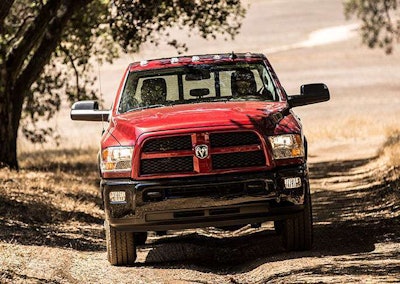 It's no secret that manual transmissions are hard to find on new pickups, but some new trucks are still available with a stick shift if you know where to look.
Starting with model year 2016, Ford – which sells more trucks than any other OEM – no longer offers a manual transmission on any of its trucks.
"There's been quite a shift to automatics over manuals," says Mike Levine, Ford truck communications manager. "They're both more fuel efficient and easier to drive now than ever."
For those drivers who still favor shifting, Ford offers a manual mode transmission feature on its F-650 and F-750. A button marked plus and minus on the stick allows for shifting. There's no clutch to use, though. So, it's more of a semi-manual or semi-automatic, whichever you prefer.
"We did offer a Cummins diesel with a manual transmission," Levine says of the pre-2016 F-650 and F-750. "Now, we offer the 6.7-liter Ford Power Stroke and it only comes with an automatic transmission."
On the other side of Detroit, General Motors will still sell you a manual transmission, but only in the mid-size Chevrolet Colorado and GMC Canyon.
"At one time manual transmissions delivered better fuel economy. They were less expensive to buy. And a lot of drivers were familiar with a manual transmission," says GM's Truck Product Manager Dan Tigges. "But over time, it seems like those reasons have gone away."
"Automatic transmissions have gotten much more sophisticated. We've gone from four speeds to six speeds and now we've got 10 speeds coming. And they have just gained tremendously in fuel economy."
Ram offers more manual transmissions than any OEM as long as you opt for a Cummins diesel engine, starting with the Ram 2500.
"There are still a number of customers who very much enjoy the ability to control the transmission manually. Whether it be for gear selection on hills, or downshifting or compression braking," says Nick Cappa, Ram product media relations manager.
"The fact that we are the only ones that offer it gives us some exclusivity. That helps us reach out to those customers who expect to have that in their truck as we are the only ones who can get it. It's very nice to have."
A hydraulic feature allows for automatic clutch adjustment on Ram's manual transmission. However, clutch wear can be accelerated depending on driver skill and application.
Toyota offers a manual transmission in their mid-size Tacoma, but you won't find it in the Tundra.
Nissan's mid-size Frontier can be paired with a manual. In fact, the Frontier S and SV 4×2 models equipped with an I4 engine come standard with a 5-speed manual transmission. A 6-speed manual is available for Frontier models with a V6. However, you won't find a manual transmission on Titan XD.
Manual vs. Auto — Is that fight still relevant?
It's a no-brainer that automatic transmissions are a lot more popular than their manual counterparts.
In an age when cell phones outnumber people in the U.S. and trucks come with more cup-holders than seat belts, most drivers on the road prefer having a free-hand to grab something besides a stick-shift.
Some contend that automatics are safer because it's one less thing that a driver has to handle while juggling a cell phone and a cup of coffee. There's also no worrying about engaging an automatic transmission when stopped on a hill.
Another knock against manual transmissions is that there are a lot less drivers who know how to use them. And it's not just with fleets.
Would-be carjackers continue to make headlines as they attempt to steal vehicles that they can't drive. So many car thieves have been foiled by manual transmissions that The Huffington Post wrote an editorial suggesting that a stick-shift could be your best defense against carjackers.
Thieves aren't the only ones who struggle with jamming gears.
"If I pull up to a valet in my truck and tell them it's a manual they say, 'Oh,'" says Cappa who drives a 2003 Ram 2500 equipped with a six-speed manual transmission. "And then they have to go get the only guy who can drive manuals. It's pretty interesting how it's just fading away. It's a lost talent."
While anecdotal evidence reveals that manual and automatic transmissions can impact car theft and car safety, insurance actuaries are not quite convinced. State Farm told Hard Working Trucks that while there are a number of factors that influence insurance rates, transmissions are not among them.
The Insurance Information Institute reports that no data exists regarding safety and theft deterrence relative to transmissions.
"Data for car thefts and car accidents are not broken down by transmission type. In fact, when someone is shopping around for insurance, they are not even asked if the car has a manual transmission," says Lynne McChristian, Florida representative for the Insurance Information Institute.
"And, it's an urban myth that cars and trucks with manual transmissions are less likely to be stolen. Professional thieves know how to drive anything."
McChristian references an article posted on Fox News in which a Michigan State Police detective states that manual transmissions are actually easier to steal.
"If I saw a car in a parking lot and there's nothing in front of it, I'd simply put it in neutral and push it away," Sgt. Don Lusk, a veteran detective with the auto theft squad in Detroit, explains in the article.
Pushing a stolen vehicle in neutral does not exactly make for a fast getaway. Assuming Lusk would push it to a nearby flat-bed hauler, a tow truck or a vehicle with a tow strap, it still does not make for a quick, easy theft. Also, since there's no exhaustive data regarding theft based on transmission type–only anecdotal evidence–there's no statistics available indicating if vehicles equipped with manual transmissions are less likely to be stolen or not.
It used to be that stick shifts were cheaper than automatics and got better gas mileage. However, technology has made automatics just as good and even better in some cases when it comes to MPG. Also, given the law of supply and demand, a manual can now increase the sticker price since it's largely fallen out of favor with consumers.
"Because every other manufacturer is selling automatic transmissions, their price has come down," Tigges says. "Manuals don't enjoy any kind of price advantage anymore. From a cost standpoint, some times, manual transmissions are even more expensive than an automatic. Some of those historic reasons have gone away."
The manual transmission has fallen so out of favor that even on the select models where it is offered, it isn't very popular.
"They really have not been a big seller, especially on the commercial side of the business," Tigges says. "With commercial customers, companies so often have drivers rotating through a truck and so many people these days don't know how to drive a manual like they did years ago. So it just avoids a lot of problems to have an automatic."
With GM scaling back on manuals and Ford stopping them all together, that could be an indicator of where the market is heading, but Cappa argues there is still a segment of drivers who want a manual transmission.
Since a manual offers a driver more control over a truck, that can come in handy with some jobs. For instance, Cappa has relatives who own an excavation company and they prefer working with trucks that have manual transmissions.
"They like the crawl gear," he said. "They like to be able to control the transmission themselves. It's a personal preference on the part of the driver."
Personal preference for a manual is not all nostalgia. It can be a vital link between driver and truck where the driver gains more control and more confidence as they take on big jobs.
"They can put the truck into gear and, with as much torque as the Cummins has, it just idles and they just lock it in. There's no need to hit the accelerator at all," Cappa adds. "They can just pay attention to what they're doing and the truck can torque at idle probably all the way until second gear. Definitely into second gear and maybe into third."
"You don't have to apply any acceleration. They can actually just get the truck to idle and select a speed that way. Whereas with the automatic transmission, it's going to require some input. In some situations, that's a necessity."
Okay, so manual transmissions still have a role to play in vocational trucks. Just keep in mind that if you opt for a Ram truck with a manual transmission you will have to sacrifice power.
"It's interesting though. That's only something that's happened over the last 10 years or so, because there was a time when the manual transmission had the high output engine," Cappa says. "But now because automatic transmissions are so much stronger, so much more durable, we can go up to 900 pound feet on the automatic."