Mack Trucks' mDrive HD will soon have offer two new spec options: 13- and 14-speed spec'd for vocational and severe-duty markets that make use of low reduction gear ratios. Mack introduced the new options at the NTEA Work Truck Show taking place in Indianapolis this week.
The mDrive HD is an automated-manual transmission designed for vocational and off-highway markets. The company markets it as a rugged, reinforced version of its on-highway mDrive transmission. The new 13- and 14-speed options for the mDrive HD will be available for order in August on Mack Pinnacle, Granite and Titan models.
The 13-speed offering will be available in direct or overdrive configurations, and the 14-speed will be available only in an overdrive configuration. The 13-speed transmission offers easier starting on steep grades or when the truck is under a heavy load, Mack says. The 14-speed option is designed for curb pouring applications or low-speed heavy-hauling, Mack says, where the ultra-low-speed reduction gear is needed. Both transmissions offer up to four reverse gear ratios.
Mack releasing smaller, lighter and more efficient ClearTech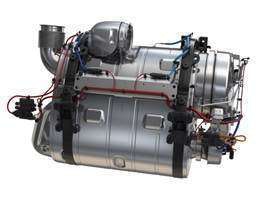 Mack also announced at the show an updated version of its exhaust aftertreatment system. The ClearTech One, which Mack says is a smaller, lighter and more efficient version of the original ClearTech system, will also be available for order in August for Mack Pinnacle and Granite models.
The new ClearTech one combines into one unit the diesel particulate filter, selective catalytic reduction system and diesel exhaust fluid system.
Finally, Mack announced several updates to both the mDrive and mDrive HD, along with longer standard warranties for both. Updates to the mDrive models include: a redesigned gearbox control unit, a new clutch with a larger torsional damper and new component wear monitors. Warranty coverage now extends to 36 months with unlimited miles for heavy-duty applications for both the mDRIVE and mDRIVE HD. For severe-duty applications, warranty coverage is extended to 12 months and unlimited miles for the mDRIVE, and 24 months, unlimited miles for the mDRIVE HD.