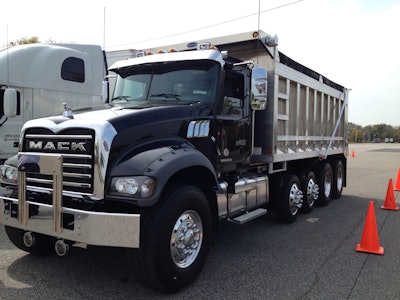 There are worse ways to spend an Indian summer afternoon in Pennsylvania than behind the wheel of a Mack Granite.
With Curtis Dorwart, Vocational Marketing Product Manager for Mack as my co-pilot, I had the opportunity to put this heavy construction truck through the paces on Mack's text track in Allentown, Penn. Thursday.
The Mack mRide spring suspension mounted to a 18794 chassis was more than adequately loaded with 15 tons of sand in the DuraClass Alumax, 20 yard dump body.
The truck featured a Mack s462R 46K rear axle and Mack CRDP150/151 rear axle carrier.
The MP 8 Maxidyne engine provided 455 horsepower and plenty of push on the 15 degree inclines, and the 6 speed Allison 4500 RDS set the mDrive truck in motion fluidly. A PowerLeash engine brake wasn't too aggressive but was a good compliment in the breaking package overall.
The pusher axles provided great stability when the terrain got rough, and it got rough frequently. Like any good text track, the circuit was equipped with a simulated environment that drivers in a construction environment routinely face – crappy road conditions.
The truck, which was also outfitted with Bendix Traction Control, didn't exactly float, but it wasn't going to. It wasn't designed to. It was loaded to near capacity with sand, and the test track conditions were worst case scenarios. How often do you face articulation of 15 degrees followed by a train track followed by a cobblestone road?
What it did do was impress with its handling. A ride that should have been brutal wasn't. A ride that should have been bruising was far from it.
Long story short, this Bulldog got the job done comfortably with plenty bite left to give.