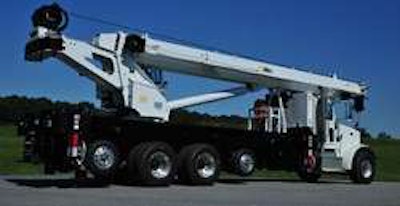 Altec Industries, Inc. announced Tuesday the launch if its AC45-127S telescopic boom crane, offering best-in-class safety, productivity and operator convenience.
"Altec has a customer-focused product development process," says Matt Trefz, Market Manager for Altec Cranes. "When we began the 45-ton project, customers told us they needed more capacity beyond a 25-foot load radius, a 'solid' feel at a 100-foot load radius, and road transport without weight permits. Altec's engineering team was able to deliver a 45-ton boom truck with a stronger chart, better feel and attractive payload compared to alternative products."
The AC45-127S is built safety features like lower winch control, front entry cab and engine start/stop at the tail shelf to minimize slip/trip/fall hazard exposure. The tilt cab feature improves visibility and reduces operator neck strain and associated fatigue.
A service-driven design simplifies preventative maintenance and reduces downtime. The LMI reel is mounted at the boom heel and protected by a metal cover while the A2B cable is routed through the boom, which provides better reliability.
Other features include 45-ton maximum capacity; 127-foot, 5-section boom; 55-foot telescopic jib and improved cycle times.