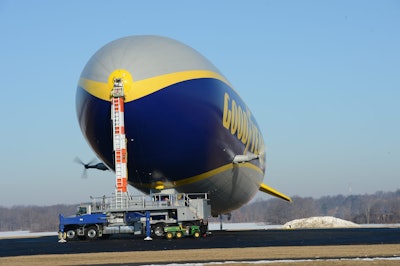 Even one of the world's most famous airships can't fly everywhere, but it takes a special truck to truck to control Goodyear's massive airship while it's not in the sky.
The Mack Granite model used to haul the blimp is the only one of its kind, and was built specifically for Goodyear when the company determined it needed a truck-mounted mooring system (known as a mast truck) rather than the previous system of mooring its older, smaller blimps to the ground.
"Mack prides itself on being easy to do business with, and our sales force is known for working in tandem with the customer to develop the needed specification for any application," says Stu Russoli, Mack vocational segment product manager. "The Mack Granite offers an incredibly durable base for essentially any vocational application and allows for modifications to ensure application excellence."
Mike Bloom, a chassis engineer with Rochester, Minn.-based Nuss Truck & Equipment, met with Goodyear representatives at Goodyear's headquarters in Akron, Ohio, where they discussed design options and their needs. The truck needed to move the blimp in and out of hangars, as well as offer ground support when the blimp is not in the air, all while standing up to wind loads of as much as 78 knots (78 knots = 90 mph).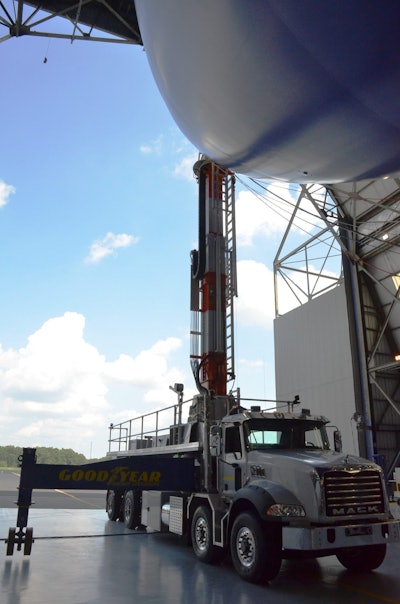 Goodyear chose a 2014 Mack Granite model equipped with a Mack MP8 engine, Mack 200 series carriers with inter-axle locking differentials and four Goodyear G278 MSD tires in size 425/65R22.5 on the front paired with eight G572 LHD tires in size 11R24.5 to get the job done.
The truck was built at the Macungie Cab & Vehicle Assembly facility, where all Mack models for North America and export are built. The Granite was ordered as a three-axle model but was modified by Engineered Chassis Systems, a subsidiary of the Nuss Group, which built the body, converted it to an all-wheel drive 8×8 and installed the twin steer axles. The Mack Vehicle Option Center installed the TIREBOSS Tire Pressure Control System on the drive axles.
"The innovation associated with the new mast truck allows us the capability to efficiently operate the airship," says Brad Crombie, global engineer for Goodyear.