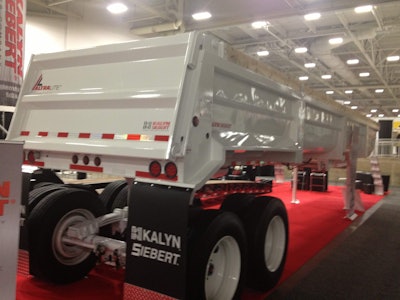 Kalyn Siebert announced the launch of its newest trailer, the ALTRALITE , a lightweight steel end-dump trailer designed specifically for stability, strength and safety at the Great American Trucking Show in Dallas this week.
Best suited for construction needs – road construction in particular – Kalyn Siebert says the ALTRALITE provides owner/operators and construction businesses of all sizes with a heavy-duty end-dump trailer that is more versatile and less expensive than aluminum counterparts.
Kalyn Siebert says the construction industry is projected to see solid growth over the next decade, and demand for a durable, high-quality, lightweight steel option will grow.
"Some in the industry prefer the versatility, ease of maintenance and lower cost of steel over aluminum," Kalyn Siebert Managing Director Ryan Rockafellow says. "And with the forecasted growth for the industry, construction businesses will continue to need high-performance, cost-effective trailers that can stand up to the rigors of heavy duty jobs."
After four years of research and development, the ALTRALITE features several unique design aspects that drive the trailer's performance. The company says a higher dumping angle keeps all axles on the ground into the fifth stage of dumping, providing better stability and safety. A bathtub design keeps the load's center of gravity closer to the trailer's centerline, for added stability. Additionally, longitudinal beams in the trailer add strength, while a higher tailgate with
a forward slant ensures positive closing.
Kalyn Siebert will manufacture the ALTRALITE in its Gatesville, Texas facility with production beginning late this year. The trailer will be in full production by early 2014. Distribution will be led by Superior Trailer Sales in Sunnyvale, Texas, although Kalyn Siebert is in discussions with other distributors.